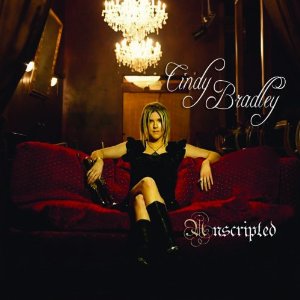 Cindy Bradley

"Unscripted"
www.CindyBradley.com
Trippin 'n' Rhythm Records
CD review by Roger-Z (01/15/12)
Trumpeter Cindy Bradley's sophomore CD for Trippin 'n' Rhythm Records, "Unscripted," broke big in 2011. Her single, "Massive Transit," held the top spot on Billboard's "Jazz Songs" chart for six weeks. Funny, even though her label markets her as smooth jazz. I don't hear it that way. I managed to play the bass to most of the record and I don't even play jazz! I describe this effort as bluesy, funky, house music. Like Phish at its best, Bradley builds you up, drops you down a notch, and then raises you to a whole other level. As an aside, I asked guitarist Gil Parris what was the difference between "smooth jazz" and "jazz." His answer -- "smooth jazz usually pays more. You play better clubs and festivals."
I first met Ms. Bradley at Gil Parris and Curtis Winchester's Wednesday night jam at The Lazy Lounge in White Plains, NY. The great saxophonist, Dan Cipriano, introduced her to me as "Cindy." I had no idea who she was. She sat quietly at the bar until getting called up near the end of the house set to play a few tunes. She impressed me with her beautiful tone, bluesy phrasing, and stage presence. It got even better when Mr. Cipriano joined her and they played Memphis-style horn stabs. After the set, I told her how much I enjoyed her performance and she gave me her Facebook address. Like another famous musician at the club that night, Bernie Williams, she impressed me with her down-to-earth, just another guy, attitude.
Ms. Bradley chose the trumpet as her band instrument in the fourth grade and never looked back. She holds a bachelor's degree in jazz studies from Ithaca College and a master's degree in jazz trumpet performance from The New England Conservatory. In the fourth grade, I couldn't make up my mind whether to pick the drums or the trumpet. My mom picked the trumpet. I played it until my braces made a bloody mess of my mouth.
Producer Mike Broening (George Benson, Wayman Tisdale, Marion Meadows, Steve Oliver) and Cindy Bradley dug deep to make this record. At the time, Ms. Bradley had just ended a romantic relationship and both her mother and grandmother were diagnosed with cancer. Before they got together, Broening laid out a lot of tracks for Ms. Bradley to co-write to.
I really dig all of the grooves on this album starting with "Massive Transit." A simple, disco bass riff played by Ernie Donadelle propels what becomes a cross between the Rocky and Soul Train themes. In a stroke of genius, Broening and Bradley morph the Wayne Shorter classic, "Footprints," into Marvin Gaye's "Inner City Blues." Here, Bradley showcases her expertise with the mute. The team unleashes the funk on "Deja Blue." Once again, the bass line by Ernie Donadelle drives the train. Bradley's bluesy riffs pump up the volume.
Cindy Bradley has a knack for picking song titles. "Lifted" perfectly describes the spiritual feeling this track inspires. The simply stated, beautiful melody evokes the rhythm and feel of Wham's "Careless Whisper." "Inevitable" grooves like Smokey Robinson's "Ooh Baby Baby" while Bradley's trumpet projects a wistful melancholy. On the ballad, "One Moment More," I can almost hear Ms. Bradley begging her grandmother not to leave this world.
In a universe filled seemingly more and more with self-promoting, crass hypocrites, I take great joy in discovering a truly talented, humble, down-to-earth artist such as Cindy Bradley. Keep on rocking in the free world!
©2012 Roger-Z