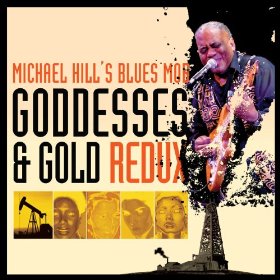 Michael Hill's Blues Mob

"Goddesses & Gold Redux"
http://MichaelHillsBluesMob.com
JSP8845 on Amazon.com
CD review by Roger-Z (10/20/15)

The uniquely appealing sound of Michael Hill's Blues Mob defies categorization in the same fashion as Led Zeppelin and Jimi Hendrix. Although rooted in the blues, all three evolved their own distinctive voice. Michael Hill looks around his neighborhood and the U.S. at large and scathingly denounces the war-mongering, homophobic demagogues. The band originally released this album in 2005 with a bass player-free format based on Hound Dog Taylor. When JSP Records chose to re-issue the CD in 2012, the group decided to add bass and harmonica, as well as additional tracks. The players include Michael Hill (vocals, guitar, percussion), Bill McClellan (drums, vocals), Mike Griot (bass), David Barnes (harp), Colin John (guitar), Vernon Reid (guitar), Hubert Sumlin (guitar), Kevin Hill (organ), Seth Hill (vocals).
The quirky, unusual chemistry in the core band of Michael Hill, Bill McClellan, and Mike Griot creates a vastly satisfying groove - a potpourri of blues, rock, reggae, and fusion whiffing of Talking Heads, Stevie Wonder, Rolling Stones, and Living Color. "Audacity of the Blues" delivers the message with Wonder-style harp and rhythm. "The blues still hits the spot and cuts through what keeps folks apart - from slavery and its roots, to universal truths, the veracity, the audacity of the blues." In "Two Time Mama," the Blues Mob conjures up an updated vision of "Rollin' and Tumblin'." The woman simply has got to get it twice every single session! The hard rockin', mammoth riffin' "New York Doll" with Vernon Reid pays tribute to a beauty in the building. "There's a goddess down the hall, she's a New York Doll." On "Bad Boy, the band delivers a ferocious spanking... "You've been a bad boy and you know that's why she'd rather sleep with anger than sleep with you."
So much musical variety and breadth here. On "Afraid of Love," a gay woman finds her amore but struggles with society's harsh treatment of them. Hubert Sumlin himself makes an appearance on the celebratory riff-rocker bearing his name. In "Black Gold," the Stone's hook from "Under My Thumb" helps point out the dirty truth of foreign wars. "You can lie about democracy or the folks in the Middle East, but it's the oil. You know they want the oil." A very moody "By George" continues in a similar mode by ripping George Bush a new one! "You can lie about what you think, you can lie about where you've been. You can lie to working folks and tell them you're their friend. You can lie about the economy that you ran into the ground. You can lie about the prosperity that will never trickle down. But when your lies send people to war, then by George, there's blood on your hands."
"Goddesses & Gold Redux" exults in the rarefied atmosphere of such great rock concept albums as Stevie Wonder's "Talking Book," Pink Floyd's "Animals," Curtis Mayfield's "Superfly," Bob Dylan's "Highway 61 Revisited," Rush's "Moving Pictures," and Bob Marley's "Exodus." Do yourself a favor and check it out!
©2015 Roger-Z