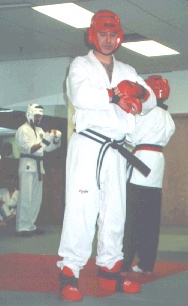 Roger Zee Taekwondo
My love affair with Taekwondo began just after I quit playing music. The camera store in Teaneck, N.J. closed and Chon Ji Academy magically appeared in its place. My wife didn't like me hanging around the house with a hangdog look on my face. She encouraged me to get off my butt and find a new hobby. So after a lot of nudging, I walked down the block and signed up for an intro lesson. I sucked! But that never stopped me from doing anything.
And so with music gone, I quickly fell into the new routine of training in the martial arts. After six years under seventh degree black belt Master Brett Casser, I earned my Second Degree Black Belt from the Pan American Taekwondo Federation in November 1998.
Upon moving to White Plains, my two kids and I began studying with Master Paul Edwards at The Exceptional Tae Kwon Do Center. In December 2002, I was certified as an instructor and in 2007, I earned my Fourth Degree Black Belt from The World Taekwondo Federation and became a master instructor.