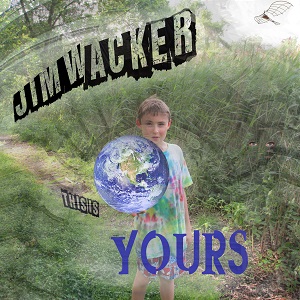 Jim Wacker

"Yours"
www.JimWacker.com
CDBaby.com/cd/JimWacker
CD review by Roger-Z (11/08/14)

Jim Wacker drops "Yours" -- a loud, impossibly bold, in-your-face, full of attitude, New York album. The long-time keyboard player for Chubby Checker wrote or co-wrote all of the tunes and plays most of the instruments. He received additional help from John DiGiulio and James Monroe (drums), Joe Alexis and Scott Ackerman (guitar), Greg Fielline (bass). Musical influences on his first solo CD range from John Lennon, David Bowie, Lou Reed, The NY Dolls, Procul Harum, and Mott the Hoople.
Jim Wacker loves large -- children, women, and the environment! And he hates big as well -- money, lies, and concrete! He kicks off the CD with "Yours," a moving tribute to his wife. "Now that I have loved you, don't go away. Cause I saw you smiling, and it's so hard to find love like this..." In "Safety Song," he rails against our over-protective, take no chances, society. "No, no, no, no... That's not allowed. Don't talk to strangers and don't talk too loud." "Paving the World" puts a unique spin on Joni Mitchell's "Big Yellow Taxi." "Why don't you stop, stop paving the world? Why don't you stop, stop killing trees. The world is too small to sprawl out forever. Please don't bring mother nature to her knees." The Bowiesque "U Gotta Lover" finds our hero preaching the virtues of treating your lover well. Wacker bears his soul in the John Lennon inspired "Just a Man." "Baby don't you leave me. I don't expect you to believe me ever again. You know that I lied to you... I'm just a man. But I love you."
The passion continues. "Munchkin Minuet" proves a delightful, classical overture to his son. The rock hard "Comfortable" gets right to the point. "I want to call you up on the phone. I want to love you up. You're so comfortable..." "My Only Everything" continues the praise. "And when I wake up next to her, I still really can't believe that she loves me like she does. She's only, my only, my only everything." The hate re-surfaces on the power ballad, "Money Makes Fools." Our hero goes on the road so he can buy his girl an expensive ring and all she wants is him by her side. In "Lies, Wacker tries some reverse psychology. "I don't love you anymore. And I never want think about you. I don't need to see you smile. And I wish these lies were true." In a fitting conclusion to the record, Wacker sings "How do I get out of this alive?"
Jim Wacker rocks hard. No beating around the bush... A little subterfuge, but not much! The man loves deep and hates almost as strongly. But ain't that life?
©2014 Roger-Z