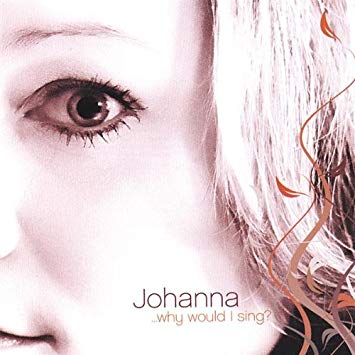 The first time I heard this CD, I muttered, "Oh crap, this girl can really sing." Why? Pure, green-eyed, jealousy! Although self-taught on acoustic guitar, this beautiful soprano holds a Bachelorís of Music in Vocal Performance from Syracuse University. And what does she vocalize so well about? Feelings! And she's got a lot of them. Woe for the guy she wants to leave ("Free") and rapture for the man she loves ("Falling"). This album of electric folk music contains all originals, some penned by Johanna alone and some with her producer and performing partner, Anthony Latt. Musicians include Anthony Candullo, Chris Mead, and Tony Tino on bass; Tom Seguso and Erik Perez on drums; Anna Dagmar and Evan Green on keyboards; Anthony Latt on guitar.
Listening to this album takes you on a journey through a vibrant, young woman's heart and soul. Hear her describe the thrill of finding love in "Falling." "Let me run my finger down your spine so close that I thought it was mine... I want to touch you from head to toe. There's not a spot on your body that I don't want to know." Listen to her self examination in "Just Let Me Be." "It's so tempting to ask yourself where you're going. But it's not 'til you've seen where you've been that you know... 'Cause every time I think I know who I am I become someone else. Observe her advice in "Misunderstood." "You try so hard to give selflessly. But why do you bother when he'll never see that you can't be sustained on emptiness. So just give it up and find happiness." And finally, share the pure rapture of "Budootndweedleedotn." "It takes all kinds to make the world go round. And everyone's got something different building up their background. I'll show you what I've got if you show me what you have to bring. 'Cause if everyone was doing the same thing, why would I sing?"
Though the vocals stand firm and proud in the mix, the various rhythm sections help propel Johanna to ecstatic heights without stealing her thunder. A tip of the hat to Anthony Latt's tasteful arrangements.
Experience the pure wonder of Johanna's voice. Travel with her through life's ups and downs and watch her transform from girl to woman.
©2007 Roger-Z