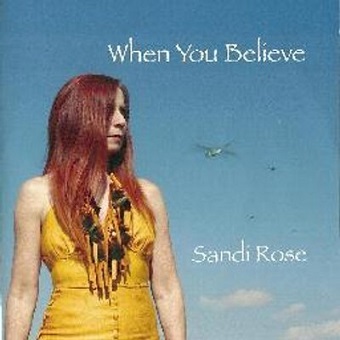 Sandi Rose

"When You Believe"
https://www.Facebook.com/Sandi.Rose.16
www.CDBaby.com/Artist/SandiRose
CD review by Roger-Z (06/23/13)

I first heard "When You Believe" by Sandi Rose via a post on Facebook. The positive serenity of her Ronnie Spector vibrato pierced my decadent, jaded defenses and lodged deep in my soul. New age spiritual music doesn't usually penetrate that far. When all else fails, I play Andreas Vollenweider records to help me sleep. Which leads me to the eternal question. How do we calm the emotional turmoil we live with every day? Vodka, whiskey, Paxil, marijuana, hate, love, war, religion, chanting, exercise, food, television? Certainly nothing's worked for me. But it sure can't hurt to think positive! Her recent twin tragedies must have taxed her spiritual beliefs to the max - the passing of her beloved father and then, two weeks later, the total annihilation her Rockaway Beach home by her namesake, Hurricane Sandy.
NY Blues Hall of Famer, Dave Fields (www.DaveFields.com), produced an amazing album. He arranged, mixed and played virtually every instrument. Other musicians include Bashiri Johnson (percussion, chant writer), Jahstix Dadson (vocal chant), Brian Taylor (Native American flute), and Gary Oleyar (violin) The first song, "When You Believe," sets the musical tone for the rest of the CD. The track opens with flute, percussion, and wordless, Native American vocalizing delicately backed by gospel mandolin and keyboards. Then the chanting begins. "There is nothing you can't achieve when you believe, when you believe. Just ask and you will receive." On "All I Can Do," Rose cathartically purges herself of the loss of a child, mother, and mate. "I don't know why I can't even begin to try. All I can do is say goodbye. And cry, cry, cry, cry... We're merely passing through, surely bound to meet again. And love, love never ends." The artist squirms under the pain of unrequited love in "If Only a Heart Were Made of Steel." "Love was never part of our deal. It's getting so hard to pretend every time he calls me friend... In dreams the love we make is so sweet and real. Oh to live my life asleep."
I like it best when Sandi feels happy! She deliciously describes the pleasures of love in "The Way He Makes Me Feel." "In the morning as I'm rising, with the sunlight in my eyes, I can feel his love surrounding and it comes as no surprise." Not sure if she's speaking about God or her lover - or both! On my favorite track, "You Can Count on Me," Rose proclaims, "I've been waiting all my life for you to come. Just when I had given up there you were. Playin' on the very same stage where all my dreams were born... When your dream seems like it's so far away, you can count on me."
Sandi Rose injects warmth and spirituality into everything she sings. Come share the light of her love. Let her peace flow through you.
©2013 Roger-Z