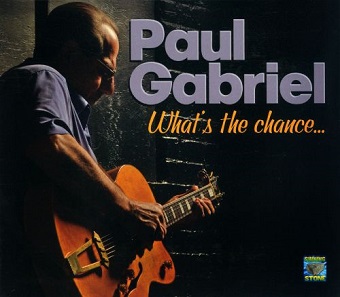 Paul Gabriel

"What's the Chance..."
http://www.PaulGabriel.net
www.shiningstonerecords.com/artists_gabriel.html
CD review by Roger-Z (09/21/13)

Guitarist Paul Gabriel first hit the big time recording with singer/songwriter Harry Chapin in the Sixties. He moved on to Rory Block, Michael Bolton, Blue in the Face, and finally, The Paul Gabriel Band. In short, he shifted from folk to rock and landed in the blues! Along the way he picked up a mentor in Duke Robillard, who made his name as the guitarist in Roomful of Blues. Mr. Robillard makes a nice living producing "blues" CDs including those I reviewed by Petey Hop and Dave Gross. Robillard encases the "blues" in a glossy sheen but leaves enough grit to engage the listener. On "What's the Chance...," the band consists of Paul Gabriel (guitars, vocals), Billy Bileca (bass), Nick Longo (drums) and Larry "Buzzy" Fallstrom (keys). Additional musicians include Duke Robillard (guitar, vocals), Mark Naftalin (piano), Bruce Bears (keys), Rich Lataille (sax), Mark Earley (sax), Doug Woolverton (trumpet), and Steve "Claude" Pastir (guitar). Gabriel wrote all but two of the songs.
Strangely enough, despite Mr. Gabriel's deep, rich, creamy voice, my favorite cuts include the two instrumentals. "328 Chauncy Street" (written by Gabriel) makes a perfect candidate for the Allman Brothers. The twin lead guitars remind me of Hot 'Lanta. Bassist Billy Bileca's "C.M.C." brings a taste of jazz to the blues. Mix frothy piano with a large body guitar.
The wealth of material impresses. "Roomful of Blues" pierces the heart with despair. "If I could see through all the lies, save some precious time. So I'm sitting here just wondering just what to do. And I ask the Lord to take me, just take me from that room full of blues." On a lighter note, the rockin' shuffle of "Ride, Ride, Ride" serves as a multi-level metaphor. "My baby says she's got to take a real long ride. She says don't you worry baby, well I ain't got nothing to hide." The playfully funky title song, "What's the Chance," finds our hero reaching out for romance. Unfortunately his hopes get dashed on "Devil's Daughter." "She made me crazy when she told me she loved me but she'd leave me cause I didn't have no dough." In "Baby I Wish," the singer fears his woman just died! "The flashing lights just around the bend. I really don't like the message they send. Well I've been thinking about you for the last mile or two. I tried to call you but I couldn't get through." Back to happy on Chris Kenner's "Something You Got." Our hero gladly works like a dog to bring home the bacon for the woman he loves. "Spoda Be" just plain cracks me up! "She's got a temper that suits her to a tee. Well she gets out of work just about five. When she walks through that door she wants to know I'm alive. I know I'm in trouble at about five twenty-three. She says, 'baby, you know where you spoda be!'"
Tasty guitar saturates this record. Make that tasty everything! Paul Gabriel delivers smooth blues over complex changes. It makes a compelling combination.
©2013 Roger-Z