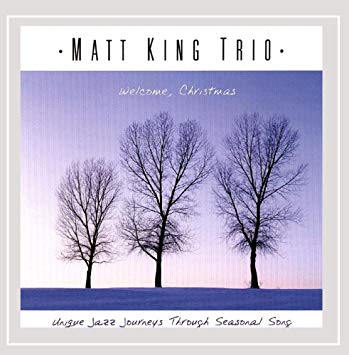 "Welcome, Christmas" by The Matt King Trio captures the holy essence of Christmas Eve. Imagine yourself in a candle lit room, surrounded by family, staring out the window at the softly falling snow. Timeless.
For much of the album, the trio sounds like the classic John Coltrane rhythm section. Matt maps to McCoy Tyner (keys); Doug Weiss, Dave Richards, and Josef Pelletier to Jimmy Garrison (bass); and Pete MacDonald and Andrew Burns to Elvin Jones (drums). Picture the men who gave us "My Favorite Things" taking on the Christmas book. "Sleigh Ride" and "Winter Wonderland" swing like crazy. "O Christmas Tree" gets a soul jazz workout. "Christmas Time Is Here" captures the essence of the Vince Guaraldi (Charlie Brown) version. Taking a left turn, the trio gives "Silent Night" the "Weather Report" treatment. "Carol of the Bells" seems inspired by Mike Oldfield's "Tubular Bells." "God Rest Ye Merry Gentlemen" features Paul Meyers on nylon string guitar a la Earl Klugh.
I love when artists take standard holiday fare and make it their own. "The Beach Boys' Christmas Album" adds scrumptious vocal harmonies. "James Brown's Funky Christmas" brings soul. I can't help but laugh when he remakes "Papa's Got A Brand New Bag" into "Soulful Christmas." Matt King adds jazz swing. It fits the holiday spirit perfectly.
Each year, I search for the perfect new Christmas CD. I gave this one to my kids' grandfather, a jazz pianist, and he played it over and over!
©2008 Roger-Z