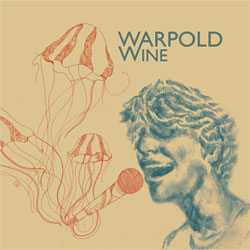 Warpold Wine

"Warpold Wine"
www.WarpoldWine.com
CDBaby.com/Artist/WarpoldWine
Appeared in More Sugar and CT Sound, August 2010
CD review by Roger-Z (07/16/10)
Warpold Wine serves as the stage name for singer/songwriter and multi-instrumentalist, Andrew Lipow. On his first and eponymous CD, he serves up an eclectic dish of psychedelic folk rock. Imagine a paella filled with bits of Dylan, The Velvet Underground, The Modern Lovers, Traffic, Sweet Thursday, and the Mark-Almond Band. The ingredients include breathy vocals (a la Jon Mark and Nico), church organ (a la Al Kooper and The Modern Lovers), disparate beats (a la Traffic), and a healthy portion of poetic love drama (a la Dylan). Does anyone remember "Gilbert Street" by Sweet Thursday?
Andrew Lipow produced and wrote all the tunes on the album. He recorded it in The Netherlands and the US. Personnel include Lipow (vocals, guitars, harmonica, harmonium),Adra Karim (keys), Tarek Yamani (piano), Kristijan Krajncan (drums), Dorota Piotrowska (drums), Pat Speece (electric bass), Wang Chen Huai (double bass), Anne Tetsch (backup vocals), Pedro Vaz (cello), Maaike Van der Linde (flute), Colin Gordon (alto sax), Pave Scherbakov (trombone), Goran Krmac (tuba).
For each song, the recipe changes. "Lights Down" features an organ drenched, hopped up rock waltz with monk-like background chanting and Marvin Gaye falsetto. "You can say you owe me. You can say you canít escape. You can say youíre lonely. Oh but itís lights down. I donít think you know me." The finger-picked guitar on "The Factory" features a killer chord linking the verse to the chorus. "Now you're back in daddy's arms again. Just sit back and look over scum like me. But you said, 'Canít we...Canít we get out?' Iím waking up." "When Nina Stays" swings like crazy over a fascinating harmonic progression. "Well she took my hand and she held my nose and she shook my face. Well, I canít stand this any longer. So what can I say? If good looks was a queen, youíd have been an ace. From now on I hope that Nina stays." The ballad of lovers torment in "The Exposition Treaty of Second Avenue" liquefies into soft piano tear drops. "I will save paper if you just come home soon. I will play easy if you just release these omens you love. I will take on every beggar to steal your perfume. I will catch up on the voices that you hear in the afternoon."
And it just gets better. I can picture Jonathan Richmond of The Modern Lovers singing the harmonica drenched "The Mirror." "Well, I donít care if your girlfriendís back. You stand up forwards. She stands right back and you stare...Still you won't break down the mirror." The hypnotic chant of "Crying" in a "A Few More Matchsticks" evokes an entire coloseum filled with swaying lighters. Like so much of this record, "The Cast Is Coming Home" evokes the bitter sweet acceptance of loss. "Well, I quit the transmission. Well, what do you know? She goes home and quits him. Still, I found my soul. Yeah, and the cast is coming home."
The lyrics enchant and the melodies mesmerize on Warpold Wine. Andrew Lipow brilliantly manages the difficult task of carving out something new from something very old. Catch the group at a venue near you. Be prepared to cry tears of joy.
©2010 Roger-Z