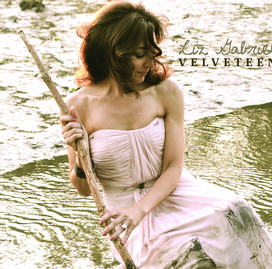 Liz Gabriel

"Velveteen"
www.LizGabriel.com
www.CDBbaby.com/cd/lizgabriel
CD review by Roger-Z (09/19/15)

I love when an artist I respect recommends someone new to me. Thank you Sarah Chesler for bringing Liz Gabriel to my attention. Ms. Gabriel combines the classically based, emotion-laden confessionals of Tori Amos, Kate Busch, Annie Haslam (Renaissance), and Amy Lee (Evanescence) with Southern gospel. And she's got a great sense of humor! Beautifully arranged and produced by Nick Bariluk (Bruce Springsteen, Bryan Adams, Tina Turner), the CD focuses squarely on Gabriel's vocals and piano. Musicians include Johnny Rabb (drums), Tim Denbo (bass), Tim DeHuff (guitar), Nick Bariluk (synth), Liz Gabriel (vocals, piano). As an added treat, the album contains a readable spine and a slide-out, lyric sheet.
The songs, all penned by Gabriel, reveal intense internal, as well as external, struggles. She feels deeply - we're not talking low maintenance! The tunes mostly take the form of stream-of-consciousness verses that ease gently into soaring choruses. Many deal with the dissolution of relationships. In "Down in Flames," a mini rock opera of sorts, a woman can't decide whether or not to leave her partner. "Booked an empty seat, a bigger suit case, a table for two at our favorite place. Close the door, lock it tight, visions of you race through my mind. One foot on the plane, one foot on the ground. canít take off, hold me down... Tell me why the best seasons change. I go down in flames, I go down in flames." In "Falling," our heroine unsuccessfully seeks to resist the charms of a new lover. "You say heís lucky to have me, you are threatening my harmony. Donít tell me you want me, conversations scroll like script in my memory, a captivating fantasy. Donít look at me that way. Iím crying for help, cause Iím losing myself. And I donít know how I can keep from falling, falling for you." "Precious Soul" completes the tale as the narrator finds herself sadly disillusioned by her current partner. "Hiding soul, all locked up behind walls of bitter defense. Lying low, behind the shell of a man I used to know. Before the shadows took their toll. Tell me, where did you go. You take every opportunity to one-up, to be right. But you used to be the strong one, now you just put up a fight, put up a fight. Precious soul."
My two favorite tracks form a study in contrasts. In the light-hearted pop of "Crazy," Gabriel jokes about how opposites attract. "You like to cycle early in the morning when I want to sleep in. Youíre drinking down your still water, Iíve got my tonic and gin. You want to watch another war movie, but I canít stand the blood. Besides donít you want to go out with me or just stay here a stick in the mud? Did you ever think I would change? You drive me crazy." The title track, "Velveteen," takes the overall pathos of the album and cranks it to "eleven," conjuring up Gothic images of Emily BrontŽ's "Wuthering Heights." I made my bed down inside a shell, why couldnít I have been myself? Not that I didnít benefit. Everything was always perfect. And though I tried to say my peace, I never cried, I just stayed velveteen, velveteen."
In this day and age when pop radio consists of computerized froth written by the same four or five anonymous, middle-aged, over-weight, balding men from Scandinavia and sung by cosmetically enhanced pin-up dolls, Liz Gabriel stands apart. She writes about real people with real problems that rarely get resolved. Good thing bad news sells!
©2015 Roger-Z