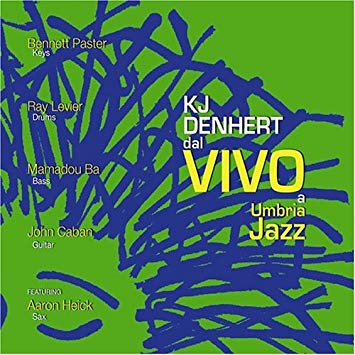 CD review by Roger-Z (11/15/08)
Appeared in More Sugar, December 2008, P. 24A
Great artists develop a distinctive, immediately recognizable style. Listen to Lou Reed's voice on "Take a Walk on the Wild Side"; Michael Franks crooning "Popsicle Toes"; Van Morrison ripping through "Moondance"; or Carlos Santana soloing on "Black Magic Woman". KJ Denhert creates her uniqueness by combining a low, bluesy voice with a jazzy, slightly dissonant, latin, acoustic/electric guitar style. She calls this music "urban folk and jazz". Denhert cites her early influences as James Taylor, Joni Mitchell, Sergio Mendes, and Steely Dan. She recorded this album live at the Italian Umbria Jazz festival in Orvieto this past winter from December 28, 2007 through January 1, 2008.
The CD presents an impeccably tight unit (Bennett Paster on keys, Ray Levier on drums, Mamadou Ba on bass, John Caban on guitar, and Aaron Heick on sax). Together, they play Denhert's latest, greatest, self-penned hits along with a few covers. Heick's gorgeous soprano and alto saxes serve as the main paint brushes. He flurries especially beautifully in "He's Not Coming Home". His pensive cascades illuminate the solo guitar of "All These Things". When it comes time to stretch out in "I Like Your Face" and "Message in The Bottle", keyboardist Paster captures the ghosts of McCoy Tyner and Joe Zawinul and plumps them into a new reality. The rhythm section of Levier and Ba, together since the mid-nineties, provide a generous and successful launching pad for all solos. Most of the time, guitarist John Caban tastefully embellishes Denhert's samba guitar playing. But when called to duty, he steps out of the shadows to wail in the revamped, latin-flavored "Message In a Bottle".
Love looms large in most of these compositions. Denhert takes an angular, poetic, non-linear approach to her lyrics. Like sunlight randomly reflecting off shards of glass, certain of her phrases pop out of the mix. In "I Got Time", she suddenly declares, "Sixteen days in a ballroom gown, I'm as tired as my shoes...Darling do you get the picture?" Yes, I do! "I got time. I'm not addicted to some bitter love." In "He's Not Coming Home", the chorus grabs the mind. "There's no country for this man. He's not coming home again". I don't quite get why. "All These Things", a romantic tale, throws off a few nods to Billy Joel's "New York State of Mind". "I was right on time to catch the Hudson River line. Every stop along the way was new." And all of a sudden she pops out, "With those big brown eyes so sensitive and wise..." "I Like Your Face" actually speaks for itself!
Great songs can handle radical changes to their beats and basic structure. Take The Beatles' "Ticket To Ride". Denhert does away with the main riff, changes the beat, and comes up with a complete winner! Under her command, The Police's Message in a Bottle" grooves like a samba and then explodes into a whirlwind of solos.
So if you're looking for atmospheric music that captures an immediate pathos without being obvious, step up to KJ Denhert. The sophisticated devil sitting on your shoulder will thank you for it
©2008 Roger-Z