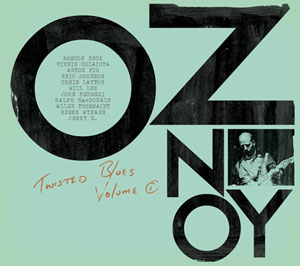 Oz Noy

"Twisted Blues, Vol. 1"
www.OzNoy.com
Abstract Logix
CD review by Roger-Z (03/15/12)
I get the "Twisted" in the title of Oz Noy's first CD for Abstract Logix, "Twisted Blues, Vol. 1." But "Blues?" I don't hear it except for an isolated guitar lick here or there. Barring "Whole Tone Blues," no one plays a straight drum beat, let alone a shuffle. Many musicians complain about the mind-numbing sameness of the twelve bar, 1-4-5, blues progression. No worries there. I've played in blues bands for forty years and I couldn't follow the chords on this record -- way too difficult! So let's take the bold step of renaming the album "Twisted, Funky Jazz" and be done with it!
The title aside, Oz Noy kicks ass on this all instrumental record. He unleashes an arsenal of licks on his Teles and Strats that bears likeness to little I have heard before. Thank God! Something original! And that includes most of the tunes as well. Musicians include drummers (Vinnie Colaiuta, Anton Fig, Chris Layton), bassists (Will Lee, Roscoe Beck), guitarists (Oz Noy, Eric Johnson), and organists (Jerry Z, John Medeski, Reese Wynans).
I found it hard to pick out favorites as each track spoke to me in its own way. So let's start with the catchy funk tunes. The title track, "Twisted Blues," launches a simple motif over a beat that lurches like a drunken kung fu master. Noy switches back and forth from simple Tele double-stops to highly overdriven, wah-wah infected, jazz lines. What a makeover they give to The Meter's classic, "Cissy Strut," starting with the psychedelic, Hendrix influenced ("One Rainy Wish") intro. Once again, we witness the alternating straight and wah-wah guitar as well as a complex, jolting drum beat. Starting with John Medeski's organ solo, the tune takes a turn into an alternate universe. They rejoin planet earth with the head, and then depart again when Noy solos. "Oh Really" reeks of New Orleans. Of course they take a simple, classic song chord progression and completely jazz it up. I love the way Noy mixes the most traditional harmonic lines with completely disjointed, whole tone scales. And speaking of "Whole Tone Blues," what do you get when you mix Stevie Ray Vaughan's drummer and keyboard player with Oz Noy's funky jazzsters? A train that leaves the station and immediately enters the Twilight Zone. Yes, we finally get the blues shuffle -- but the chords? And those jazz solos? Clearly not your mother's blues!
Strangely, Oz Noy performs a number of gospel flavored ballads. On "You Are The State," the band starts with "Sleep Walk" and then incredibly, Noy unleashes a flurry of hot blues licks! He gives "Two Centers" the same treatment with the addition of a Hendrix inspired space solo. The cover of Thelonious Monk's "Light Blue" takes a page from Hendrix's "Waterfall."
All in all this transplanted Israeli gives a needed jolt to the New York music scene. He takes a little of this and a little of that, shakes it up, and presto. You get something you never tasted before. Sure, you know the ingredients that went into the recipe, but somehow momma's cooking never tasted like this!
©2012 Roger-Z