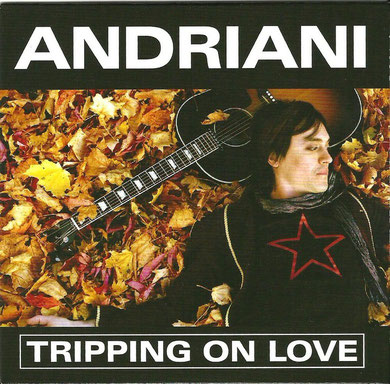 Johnny Andriani

"Tripping on Love"
www.JohnnyAndriani.com
CD Baby
CD review by Roger-Z (02/15/12)
Johnny Andriani's "Tripping on Love" drips with melody, lush guitars, and engaging lyrics. Taking a page from Lenny Kravitz, Mr. Andriani wrote, produced, and played all the instruments on this CD. He concocts a magic potion with equal parts punk, garage, and psychedelia.
Person relationships and the meaning of life permeate the mostly mid-tempo songs. A lot of it sounds tongue-in-cheek. In "Tripping on Love," Andriani brags, "I don't need to drink. I don't need to smoke. I don't need to eat anything. I don't need coffee. I don't need water. I don't need any drugs. I'm tripping on love." Yet when sung with his raspy, cigarette-edged voice, I don't quite believe he's given up all his vices. He creates a gorgeous guitar symphony reminiscent of Hendrix's "Axis Bold of Love." In "Freaks of Nature," Andriani contemplates the randomness of life. "It started with the big bang from a freak accident...What does it matter how or why we're here? What does it matter? Go buy me a beer. We're all Freaks of Nature. It's freaking me out that we're even here." The police siren guitar hook rivets the listener. Once again Andriani revels in a phantasmagoric swirl of liquid guitar. In "Ephemeral Pleasures," the singer reminisces about teenage pleasures. "When I was young I used to lust life. Dirt bikes and BB Guns and Jack Knives. Playing football was a Seventies child. No worries I was born to be wild. Jumping out of my bed. Jumping over their heads. Evil Knievel Dreams. Cutting class causing scenes. Making the teachers scream. Life's just ephemeral pleasures." "In Her World" tells the story of a girl who would rather stay home than go out and do drugs with her friends. "She'll wait for true love if it takes her whole life on her own carpet ride. In her world far away there's a girl who's a virgin. If love happens to come her way she'll make sure it's not a burden." For the solo, Andriani sets up a perfectly matched pair of dueling guitars.
Sometimes Johnny Andriani gets downright pissed as in the punky "What Do You Know?" "I listen to your talking about the world and all things. I know you love attention but you go too far. You think you've got the answers to everything unanswered. What makes you think you're smart? You don't know much." "You Never Know" ghosts John Lennon at his primal scream best. "Everything you think you thought you knew. But now you know you never had a clue. Nothing what you think you thought was true and now you know that you never knew." Say that five times fast!
Johnny Andriani paints an intriguing portrait of life as he conceives it. After years in the music business, he has developed all the tools necessary to create a hooky masterpiece. Currently, you can find him writing songs for the likes of Meat Loaf and performing with his band, The Dwellers, at clubs like The National Underground in Manhattan. But be careful to not get too close. You may end up in a song on his next record!
©2012 Roger-Z