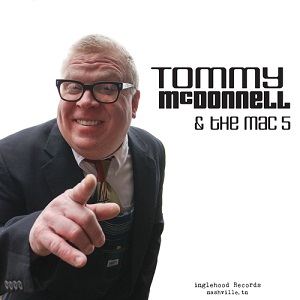 Tommy McDonnell

"Tommy McDonnell & The Mac 5"
InglehoodRecords.squarespace.com/menu/
iTunes
CD review by Roger-Z (02/20/15)

The sepia-toned cover photo of "Tommy McDonnell & The Mac 5" perfectly captures the essence of this record. It features McDonnell dressed in official Sinatra "Rat Pack" couture, grinning and pointing a finger -- ready to swing his way through a bunch of hits from the Forties, Fifties, and Sixties. Sounds like these guys did it "old school," cutting the tracks quick and dirty, jivin' all the way! The fun radiates through the digital bytes right up into the ear buds! It figures since McDonnell came to fame as the lead singer of the "The Original Blues Brothers Band" and continues to to tour the world with them as well as with The Mac 5. The CD personnel consists of Tommy McDonnell (vocals/harp), Martin Lynds (drums), James "Hags" Haggerty (bass), Micah Hulscher (keys), Joe McMahan (guitar), Randy Leago (sax), Mavis Turner (trumpet), Diego Vasquez (trombone). Featured soloists include Lou Marini (sax), John Tropea (guitar), Joe Pisapia (guitar). Grammy winning producer Cowboy Keith Thompson brainchilded the project.
You can feel the fresh air blowing through these numbers. Good thing, too, cause these dance tunes generate a lot of heat! A happy, go-lucky attitude pervades all. McDonnell sputters and laughs his way to "Rock Bottom." "I was sitting with the fishes on the floor of the sea. I'm feelin' down and low as any fellow could be... Lost my gal to a pal, I've hit rock bottom." Terrific jump saxophone. We face a slightly different issue in "Mambo Baby." All my baby wants to do is the Mambo. Morning noon and night time too, it's the Mambo." Although not originally done by The Beatles, I always think of "Anna" as theirs. But McDonnell uses his big, burly baritone to perfect purpose on this chestnut about a man sending off his girl to her new love. With tongue firmly in cheek, "Go Back Where You Stayed Last Night" finds our fellow locked out after returning home five days late from a four day hunting trip! You can almost smell the woozy, whisky breath in "Drunk." "Came home one night with a spinning in my head. Reached for the pillow, missed the whole darned bed."
No matter what the story, you can always dance to it here. Take the swing of"Palm Springs Jump." You better get your luggage packed. Meet you by the railroad track. Shuckin' and jivin' swing. Everybody's jumping down to Palm Springs." Smoking guitar solo. Or you can take it a notch slower with the "Madison Time." The singer calls out this shuffle just like a square dance! The rhythm of New Orleans perfuses the lusty beat of "5 to 15." McDonnel lays down some tasty harp. In the Fifties style "Watch and Chain," conga to the beat of a man puffing up and strutting his stuff. "Come on, come on, come on baby. My love is the strongest in the land. I don't want to hear no maybe. You got my future in your hand."
If auto-tuned, plastic-surgeried singers, and computerized music tracks ain't your cup of meat, hop on board the swing train with Tommy McDonnell and The Mac 5. Sure, life's got it's problems. But at least with this crew, you can sashay through them like a hot knife through butter!
©2015 Roger-Z