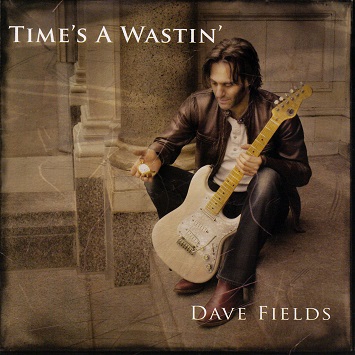 Let's get one thing straight. This brilliant guitarist can play any kind of music -- witness his jazz-fusion album, "Fields of Vision." Here he chooses to play the blues. Not just shuffles and slow tunes, but real songs that encompass a variety of beats. In fact, his singing and guitar playing sounds like the redoubtable Robben Ford.
The twelve cuts on this self-penned CD percolate with enthusiasm, and in many cases, just pure lust. Five lyrics include the word "Do" in the title, as in "Do Me Now," "I'll Do You Right," and "Do Do." And what about rubrics such as "Let's Get Shakin'" "Keep It Up," and "Frenzy?" The words to "Do Me Now" sum it up. "Do me now, and baby love me later, and then we're gonna do it some more." What's this boy been eating? He ought to package and sell it on the internet! I'm exhausted just listening to the record.
Fields cut the rhythm tracks live using a variety of drummers and bassists. When asked why so many different lineups, he told me he picked the musicians who could deliver the best feel per song. Drummers include Fields himself, Dave Moore, Ken Soule, Lee Finkelstein, Mark Greenberg, and Wes Little. Bassists comprise Erik Boyd, Brett Bass (how appropriate), and mostly Fields himself. Bob Paparozzi guests on harp. Paul Shapiro and Rob Chaseman appear on sax. Fields covers all keyboards himself
Outstanding tracks abound. Take the opener, "Let's Get Shaking" -- an invitation to fellow band members to get on stage and start ripping. Think Alvin Lee and "Going Home" from Woodstock. Except that Dave Fields plays all instruments! This boy can really swing/rock the blues. "Don't Look At me That Way" conjures up the good-time feel of Billy Preston's "Will It Go Round in Circles." "Don't look at me that way. I can't control what happens next. Cause a look leads to a kiss and honey you know the rest." Great horn stacks by Paul Shapiro. Marvelous piano by Fields. "Rabbi Blues" relates a humorous confrontation between our hero and his rabbi who doesn't appreciate the blues musician's life. I will never again listen to the Hebrew blessing over the bread without smiling! Forgive me Dave, but I had to email the song to my cousin Harry -- a rabbi!
Other tunes beg for notice. "Frenzy" features a smokey, Peggy Lee, "Fever" groove about -- guess what! The instrumental, "DF's Blues," switches from rumba to shuffle and features volcanic guitar. Freddie King ain't got nothing on this boy. "Rockin' At The Barbeque" presents good time southern rock with some greasy chicken picking. Remember "Lay Down Sally" and "Take Three Steps?" The album closes with "The Cure," an acoustic slide tour de force.
Dave Fields does it all -- writes, sings, and plays most instruments. But the guitar stands as the real focus of this album. Sometimes, he gets so impassioned that his instrument just bursts out of the blues into pure white-hot, rock flame. But who can blame him? Real passion has no bounds.
©2007 Roger-Z