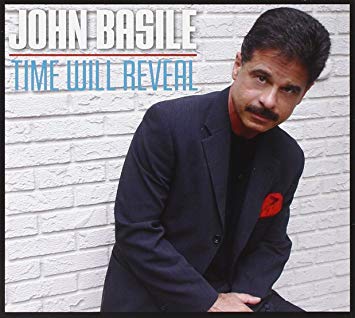 On "Time Will Reveal", guitarist John Basile takes his favorite jazz and pop hits from the 50's through the 80's, extracts their melodies, and gives them the acoustic jazz treatment. The top flight band consists of David Finck (producer, acoustic bass), Clint De Ganon (drums), Roger Squitero (percussion), Joe Locke (vibes), Bob Mallach (tenor sax), Barry Danielian (trumpet), Bill O'Connell (piano), and Bryan Olsen (piano).
I call this romantic dinner music. John Basile provides the tunes, you provide the wine, flowers, sumptuous food, and significant other! So what, you might ask, distinguishes the sound of a jazz guitarist? He will use a jumbo size, acoustic box, with special pickups, heavy strings, and no electronic effects to get a very bassy sound. Though he may bend strings on occasion, he uses virtually no vibrato. His soloing bag of tricks consists of double stops (two notes hit at once) and octaves. Consider this in the same category as the early instrument movement of classical music.
Producer John Finck lets the music ring out in crystal clarity -- no hidden messages here. Imagine the 70's CTI label with no strings. The songs follow a similar template. Basile introduces a simple, mostly single string rendition of the melody, followed by an increasingly complex solo complete with sophisticated stabs from the background instruments. In some instances, another instrument, mostly the vibes, gets to solo.
My favorites include "Up Up and Away," "Betcha, By Golly Wow," and "Superstar," "For The Love Of You," and "La Samba." Notice I picked mostly pop tunes. "Up Up and Away" features a delectable rendition of the melody complete with a strategically placed chromatic double stop. "Betcha, By Golly Wow" gets an intimate, stripped down arrangement. The guitar alternates between single note and chord melodies beautifully capturing the spirit of the piece. "Superstar" takes an up tempo approach. I don't even know how to describe the beat -- a cross between latin, funk, and rock? But it serves as a perfect launching pad for guitar and vibe solos. Basile cuts loose with large intervals and even some blues runs at the end. "For The Love Of You" opens with a sound reminiscent of a Charlie Parker/Dizzie Gillespie tune. Barry Danielian shines on trumpet. "La Samba" opens with cuts so sharp, I thought my CD was skipping! The vibes give the song a luminous ring that serves as the perfect backdrop for Basile's long, languorous lines.
If you live in the NY/NJ/CT area and love radio station CD101, you will eat up this record. As a matter of fact, if you live anywhere and love "quiet storm" music, this works big time. So grab your loved one, light some candles, open a bottle of wine, and fall under the spell of John Basile.
©2009 Roger-Z