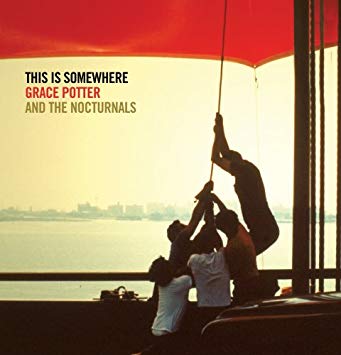 Anyone in the jam band scene will tell you that Grace Potter and the Nocturnals are the "next big thing." Just ask Gov't Mule. Potter and crew played a short tour opening for them and now Warren Haynes can't praise them enough. If a picture paints a thousand words, check out the main page of their Myspace page at www.myspace.com/gracepotterandthenocturnals. That's Grace (in case you couldn't tell) with the traffic cone projecting out of her groin. The image sums up her appeal. Great looking, yet one of the boys. Flash back to another rocker with the same first name.
The group has generated a lot of buzz. Most articles compare them to Bonnie Raitt and The Band. The Nocturnals consist of Potter on vocals, organ, guitar, Bryan Dondero on bass, guitar, mandolin, Matt Burr on drums, and Scott Tournet on lead guitar, harp, lap steel, vocals. The band aims for a '70's, organic vibe and succeeds. This, their "big label" debut, had them concentrating on "songs" and production. Potter, who wrote all the tunes, strove for a more linear, personal story telling style.
The best cuts feature either a playful sarcasm or an intense vulnerability. The lead off track, "Ah Mary," pokes large holes in the heroine. "She waters the garden but maybe she just likes the hoses. She puts herself just a notch above humankind." In "Big White Gate," a dying woman admits to a rather worthless, cruel life, but begs St. Peter to let her into heaven because she sings well. As my mother would say, "The gall of that woman!" Like most rock albums, this one features a "road" song. On "Stop the Bus," frustration explodes as Potter shouts, "Stop the bus and turn the radio up high and grab the first guitar you see. And get out the old flare gun and throw it to the sky. Tonight you're sleeping next to me." Honestly, it was the last line that got me! In "Mr. Columbus," Potter makes fun of good old Chris. "Get up, you got to help us. Pick it up there, ain't no way around it. Let's go. I think we've found it. We found the edge of the world." Sadness soaks "Lose Some Time." "I got arms to hold me every night but I'm still sleeping with your ghost. Your kisses are so sweet and slow. It feels alright as long as nobody knows."
The Nocturnals provide a warm, comforting cloak for Ms. Potter's music. Never intrusive, always supportive, able to kick out the jams when necessary.
Grace Potter and The Nocturnals slap a joyous, soulful face on today's rock. Check out their many videos on You Tube. Just watching Potter wail on Hammond B3 or slide guitar will send goose bumps up the arms of even the most jaded rocker.
©2008 Roger-Z