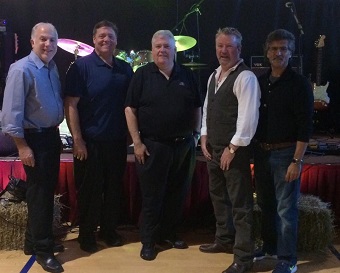 Third Stone Band

"Third Stone Interview"
www.ThirdStoneBand.com

Interview by Roger Zee (02/14/17)
Roger Zee: How and when did the Third Stone Band come together?
Eugene McLeer: Dave and I met at Blessed Sacrament High School in New Rochelle, NY. We played together for the first time at a party before graduation in the Spring of 1982. While both at Iona College in the mid 80's, we started playing together regularly in various bands. In 1995, we formed Third Stone as a three-piece Blues band, and later as a Blues and Soul band with the addition of a two-piece horn section. We've been working ever since as Third Stone with several different musicians that have come and gone. But Dave and I have been the constants throughout it all.
Roger Zee: How did you think up the name?
Eugene McLeer: Like most bands, we brainstormed and came up with Third Stone based on the Jimi Hendrix song, "Third Stone From the Sun," about our planet Earth.
Roger Zee: What kind of material do you play? Any originals?
Eugene McLeer: Over the years, we dabbled in originals. We even released a CD a number of years ago, "Blues Central Station," comprised of mostly our own tunes. Nowadays, we mainly cover Classic Rock and Soul music. Artists include Bruce Springsteen, Southside Johnny, John Mellencamp, Wilson Pickett, Sam and Dave, Otis Redding, Van Morrison, Allman Brothers, Grateful Dead, Marshall Tucker, Lynyrd Skynyrd, Rolling Stones, Tom Petty...
Roger Zee: Who's currently in the band?
Eugene McLeer: The core group consists of Dave Bergamini drums, Eugene McLeer guitar, Armand DiBiase bass, Vic Minei sax, and our newest member, John Hanlon, guitar. Dave, Eugene and John all sing. A few others sit in from time to time and the band often takes many forms. We'll play gigs ranging from a power trio up to eight pieces.
Roger Zee: Do you rehearse or just learn songs off the record?
Eugene McLeer: It depends on our gig schedule. When things slow down, we practice and add new material. We tend to pick our spots.
Roger Zee: Which venues do you play?
Eugene McLeer: Based in New Rochelle, NY, we perform at a lot of the clubs in the Lower Westchester area -- Bar Harbor, The Beechmont, Carlyn's Cove, Dudley's, The Fisherman's Net, Spectators, Cafe Mozart... We love playing outdoor gigs when the weather allows, and you'll frequently see us playing at beach clubs, summer concert series, and other special events along those lines.
Roger Zee: Describe Third Stone's most notable and/or unusual gig.
Eugene McLeer: In the late 90's and early 2000's, we set a goal to play at the Chicago Blues Festival, the most heavily attended music event anywhere, drawing over a million people each year in a four day period. Through sheer persistence, we finally got through to the person in the Chicago Mayor's office responsible for booking the bands. Over a number of months, we convinced him to give us a shot. He did appear more than a bit skeptical that a band from the suburbs of New York would make the 800-plus mile trek to play in Grant Park in downtown Chicago, but that's exactly what we did!
In late May of 2001, we packed up two rental vans with equipment, the band, and a couple of very hearty friends, and hit the road. A little over 12 hours later, we rolled into Chicago at four AM. Later that day, we played a set on the Best Buy stage, right in the thick of things. Mission accomplished! So strange though. Our CD, "Blues Central Station," was on sale at the Best Buy store/tent they had set up in the park next to the stage. After our set, we sat at a table where people came asking us to autograph the CD. One guy even had us sign his Chicago Blues Fest T-shirt. It was kinda surreal. The next year, they called us to come back, and that's exactly what we did -- played the 2002 edition of the Blues Fest. Really fun times.
Dave Bergamini: We also performed as the house band at the birthday party of Wrestling Hall of Famer Captain Lou Albano. Entertaining Bob Backlund and The Iron Sheik proved most intereting!
Roger Zee: Why do you continue to pursue performing?
Dave Bergamini: We continue playing music because for the most part, this joyous outlet remains free of the hang-ups of everyday life. People don't care who you voted for or what's your race or creed. They just want to rock out and have some fun!
©2017 Roger Zee