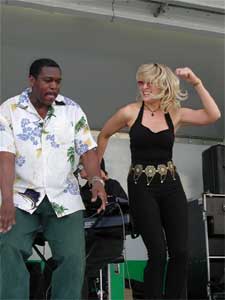 THE SHADES

8/19/04 Renaissance Plaza 12:00-2:00pm
White Plains, N.Y.
Concert review by Roger-Z (8/21/04)
Sometimes things just work out. Take Thursday. On this muggy and slightly overcast day, I opt to leave the car at home and walk all my errands. Turning the corner onto Main Street in White Plains, I hear the sound of a kick drum. Call it the sound of serendipity. Where Main Street hits Mamaroneck Avenue, a huge Heinekin banner unfurls and a bunch of people mill about. I cross my fingers. At the beginning of the summer, I swore I would remember to see THE SHADES on August 19 at the White Plains noontime Heinekin concert series at Renaissance Center. Could this be the day? Two seconds later, a city official introduces THE SHADES. Thank God I left Kam Sen Foods without ordering sushi!
What perfect weather for an outdoor show -- mid 70s and overcast. I grab a seat and reminisce about the first time I experienced THE SHADES. In the mid '90s, they played at Mexicali Blues Cafe in Teaneck, NJ -- a club literally across the street from my apartment. At that time, they called themselves "Ruby and Toots and THE SHADES." Their conceptual blues astonished me -- two "divas" fronting a band where each song flowered into a one-act play complete with costume changes and dialogue.
People change, and so do bands. First, Ruby left for medical reasons, and then Toots (aka Nikki Armstrong) departed for a solo career. Sometimes, though, personnel changes make a unit even stronger. Currently, two lead vocalists front the band. Julius Dilligard, Jr., best known for his stint in the RCA recording group, The Crown Heights Affair, joined THE SHADES as a backup singer but now impressively co-commands the front line with his soulful renditions of classic R&B hits. Nicole Hart passionately provides the female perspective. Her credits include singing backup for Billy Joel and appearing on-camera in his "All About Soul" video from the River of Dreams CD. Together, these two seasoned professionals meld their diverse backgrounds to create a breathtaking show.
Back to the present. The band steps on stage and immediately launches into the instrumental "Hot 'Lanta" by The Allman Brothers. Guitarist Tony Pagano and saxophonist Mikey Carbone immediately distinguish themselves with well-thought-out, dynamic solos. Out steps Dilligard to deliver an impassioned version of "Every Night of the Week." He plays the audience like a cat pawing a ball. With sweat pouring from his brow, he won't stop singing until he has looked directly into the eyes of every audience member.
But nothing could prepare me for what comes next. Nicole Hart runs on stage tastefully dressed in a black miniskirt, high heels and a white Danskin top. Wow! She possesses legs that seem to go on forever, a bust that would do Victoria Secret proud, and long blonde hair. I find myself averting my eyes for fear she can read my impure thoughts. Singing "Hurt So Bad," Ms. Hart unleashes a torrent of emotion. I would never want to get that woman mad at me. On the other hand, I can only imagine that energy channelled in a positive direction.
You get the picture. Two passionate, skilled singers fronting a band of seasoned professionals. It only gets better. Mr. Dilligard sings "Footprints," the current single from their 2004 album, "The Darker Side of Fun." This infectious dance song, written by band leader and keyboardist Lance Ong, gets the crowd up and moving. Ms. Hart lifts the crowd even higher with the Aretha classic, "Chain Of Fools." The set climaxes with a shockingly soulful arrangement of "Take It To The Limit" by the Eagles. This tune, also on their latest CD, morphs into a classic Teddy Pendergrass turn. The sax and guitar solos push the audience to an even higher level. Next up, James Brown's "Cold Sweat" continues the dance groove and features the hottest solo of the day. Slinging his keyboard over his shoulders like a guitar, Lance attacks it just like a guitar. His stinging vibrato drives the crowd into a frenzy. The set ends with the B.B. King favorite "Let The Good Times Roll." Propelled by the tight rhythm section of Tommy Sochor on drums and Vonnie Hudson on bass, the crowd joins in a giant sing along.
If you ever crave a night out dancing to classic R&B and a DJ just won't cut it, give THE SHADES a try. You might just end up as exhausted and satisfied as the band after the show.
©2004 Roger-Z