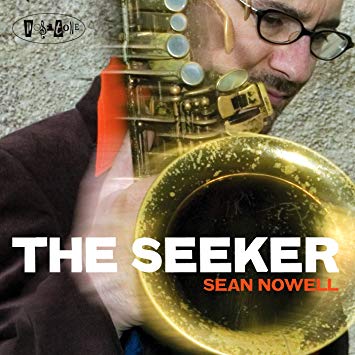 Sean Nowell

"The Seeker"
www.Sean Nowell.com
Posi-Tone Records
Amazon.com
CD review by Roger-Z (01/17/10)
Appeared in More Sugar, February 2010, P. 2A
Sean Nowell got tone -- big tenor saxophone tone. Upon first listening to "The Seeker," Nowell's sophomore effort, I thought it sounded just like a vintage sixties Blue Note or Atlantic jazz release. The opening track, "New York Vibe", reminded me of Coltrane's "Giant Steps." That intrigued me. So when I met up with Nowell, I asked him about it. He positively glowed when explaining that I got it perfectly. He loves Coltrane and his record company asked him to make a sixties sounding CD.
Of course there's more to it than that. Nowell gives the acoustic jazz treatment to some pretty "out" material such as The Beatles' "I Will" and a klezmer version of the traditional "Oy Matze Matze." The CD also contains the subtle funk of "Dunavaski Park," the shimmering ballad "Jamie's Decision," the Spanish sounding progression of "For All Intensive Purposes" featuring a guitar/sax harmony line, and the straight ahead swing of the Mercer classic "I Remember You".
Nowell cut the album mostly live in one day at Acoustic Recording in Brooklyn with producer Marc Free. The band consists of Sean Nowell (saxophone, clarinet, flute), Art Hirahara (piano), Thomson Kneeland (bass), Joe Abbatantuono (drums), Dave Eggar (cello), and Nir Felder (guitar). When I mentioned to Nowell how much I loved the "live in the studio" sound, he laughed and confided that he spent a lot of time mixing it to get just that effect at Studio 507 in LA.
I posed one final question to Nowell. Why would Posi-Tone want to create a vintage "Blue Note" CD? Is there a market for it? Nowell explained the economics to me and it appears sound. No, let me rephrase. It sounds magnificent.
©2010 Roger-Z