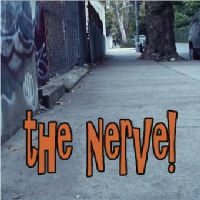 The Nerve!

"The Nerve!"
www.TheNerve.info
Heyday Records
CD review by Roger-Z (06/25/06)
Appeared in More Sugar, August 2006, P. 15A
Start with the cheekiness of The Ramones. Add the nasty aggression of The Sex Pistols and Green Day. And top it off with the alpha maleness of Ted Nugent. Let it simmer for a few years. Serve the second record hot. The Nerve! on CD (taking a page from The Ramones) consists of Randy Nerve (vocals, guitar), Joe Nerve (bass, vocals), and Santo Nerve (drums). Recently, Anthony Nerve took over the drum seat.
Produced by Bumblefoot, the "current" lead guitarist for Guns N' Roses, this album hits you like stepping out of an air-conditioned room into a steaming, humid, 95-degree, NYC afternoon. Each three minute song wraps you in an inexorable riff that leaves you breathless and drained. No long guitar solos -- just a steady pounding to the body.
Unlike The Ramones, The Nerve! feature a variety of grooves, even within the same song. The record kicks off with "Really" -- a riff that would do Motley Crue (and Tommy Lee) proud. Unlike the Crue, The Nerve! don't strut like sexual conquerers. They just focus on raw anger and frustration. When Randy sings "I Feel Like Singing," disgruntlement, not joy motivates him. Though the beat slows down a bit for the mid-tempo "Abducted," the tune grinds with the same intensity. The poppy, sing-a-long vibe of "Fly" belies the underlying bitterness. On "Resistance," Randy rails about the world's "resistance to love!" With every "putrid" act, mankind finds another way to make things worse. But underlying all the distemper, infuriation, and despair, one detects a yearning for peace and love. And they express that on "Angry Anymore." "Don't want to fight no more. Don't want to see you suffer. I don't want to be angry anymore." But then again, they end the tune chanting "I'm not angry" over a crushing beat. In "Spray Paint," the inspiration for the cover art, Randy takes the positive step of reaching out to a friend in need. "Isolation just does not become you. It's so sad to watch the pain of slow decay... Let's share our misery and leave it all behind." That last sentence captures the essence of this record.
Like 2000 volts of electricity, this CD will kick your ass with its power and intensity. Feel the burn!
©2006 Roger-Z