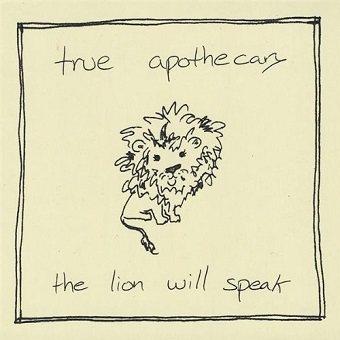 True Apothecary

"The Lion Will Speak"
www.True Apothecary.com
CDBaby.com/cd/TrueApothecary
CD review by Roger-Z (08/14/09)
Appeared in More Sugar, September 2009, P. 12A
"The Lion Will Speak" -- all about his lioness! David Brooks, originally from North Carolina, first put together True Apothecary as an electronica-based Mercy College project at the downtown White Plains Campus. It morphed into a solo, acoustic rock and pop act. I met Mr. Brooks about a month back when another of his groups, the rock band "Aerial Wolf Hunting", taped my Cable TV show, "Working Musicians" (www.TheWorkingMusician.com). The tall, bespectacled, preppy-looking, lead singer of this progressive, hard-rock group, handed me his album at the end of the session. A few days later it found its way to my CD player, and I instantly fell in love with the high vocal harmonies, major seventh chords, minor ninth chords, and arresting beats. Brooks recorded the CD with no outside help.
Raw, naked desire permeates the record beginning with the first tune, "Jinx, Buy Me a Coke." "I grow weary at the bottom looking up at everything that I've wanted. It's so far. How (are) you gonna get this one, handsome? Are you gonna sing it?" Brooks' angst increases with the minor chord swing of "1.21 Jiggawatts." "I don't like it much when you're away and this feeling's difficult to take." The elaborate, breathy, vocals rest on a cloud of acoustic guitar and gossamer keyboards and punch bass and drums. In the willowy mist of "The Promise," the singer keens, "Though I try my best not to rush, I can't control the way I feel in my soul. But I'll try harder for you." "Her Favorite One" sounds like it belongs on the local, top-forty station (WPLJ FM) -- just the latest in a long line of sensitive, singer-songwriters. "This will take time but keep in mind that's all it is. What we require is only patience. Keep your head up and keep your laugh through all of this." And finally, in "Pancakes," he implores, "So stay with me tonight, darling. If you let me close my eyes then I won't have to let go."
I can just see all the girls swoon. He's got the marketing in place. Catch the "sensitive" photos by Ju Jung Park on the album web site. But don't let True Apothecary's preparation for the big time put you off. This lion is ready to roar!
©2009 Roger-Z