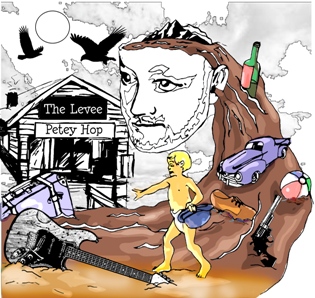 Petey Hop

"The Levee"
www.PeteyHop.com
iTunes
CD review by Roger-Z (06/09/12)
On "The Levee," Petey Hop manages to wrap his arms around the incredible diversity of "the blues." On this entirely self-penned set, Hop lays down country blues, jazz blues, folk blues, stride, shuffle, surf, and rock'n roll. Produced by legendary blues-guitarist, Duke Robillard of "Room Full of Blues" and solo fame, the players consist of Petey Hopkinson (vocals, guitar), Nick Longo (drums), Anthony Candullo (bass), Chris DiFrancesco (sax), Ian Bennett (sax, harp), Jeremy Baum (keyboards), and Duke Robillard (guitar).
Petey Hop moves me the most when he extends the perimeter -- when he adds something new and unique. Take the lyrics to "My God." In this Dylanesque romp," Hop laments God's inaction and lack of visibility. "If my God would show me how, I would follow him 'til I fall down. Wish my God would show his face and spread his love throughout the human race... If my God is there and if he really cares, I'm saying, 'here I am'." In the self-accompanied, "The Porter," the lyrics wind their way into complex territory. "Someone broke your heart just having fun. Well I won't apologize for things he's done. Well I won't carry on your crown of thorns. My suitcase in my hand, I'm out the door... Don't take it all to heart, you've got to do your part to change the game. Well I might be your boy but I won't be your porter any more." In the jazzy, "Why Should I Complain," once again the lyrics sparkle. "Questions that I ask myself at night... The answers that I seek are them I fight. My life just slips away in my plain sight. I said, 'Oh, why should I complain,' knowing I'm insane. "Panic At The Beach" harkens back to the Ventures and Sixties' surf instrumentals. Hop absolutely shreds on his fired-up Tele.
Petey Hop shines on more traditional fare as well. His grainy, slightly nasal voice, combined with his hypnotic sense of rhythm, hammers the nail home dead center, every time. The band provides the perfect launching pad for vocals and solos. Longo and Candullo lock in effortlessly. They understand the dynamics of the blues. Chris Moore's original painting adorns the album cover. It sets the tone absolutely and perfectly.
In the inner sleeve, Petey Hop dedicates the CD to a number of people who have journeyed to the next world as well as to those still here. With one foot in this life and another in the next, Hop captures the essence of "the blues." Go see Petey Hop live and witness him take these songs to another place!
©2012 Roger-Z