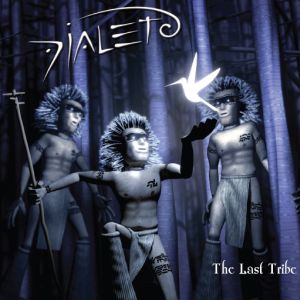 Dialeto

"The Last Tribe"
www.Dialeto.org
MoonJune Records
CD review by Roger-Z (02/14/14)
Are you the kind of person who can't wait until the vocals stop so you can luxuriate in the solos? Do you even go so far as to create CDs with only the solos like the way they did in the Fifties with Charlie Parker? Do you love minor modes? Well have I got a progressive rock group for you -- Dialeto! The band hails from São Paulo, Brazil and consists of Nelson Coelho (guitar), Jorge Pescara (touchguitars), and Miguel Angel (drums). Coelho produced the record and wrote all the material. It amazes me that each musician recorded their instrument in a separate studio and they still sound so tight! Picture Led Zeppelin and Bad Company with their blues riffs replaced with Latin metal. Dialeto has managed to create something indelibly distinct, innovative, and heavy.
Each tune launches the music in a new direction. The album opener, "Windmaster," grabs the jam section of "Stairway to Heaven" and morphs it into an alternative universe of Latin groove. "Dorian Grey" inhales the funk of Bad Company's "Burning Sky" and metallicizes it. Guitar, bass, and drums coalesce into a beat never before heard. The title song, "The Last Tribe," evokes images of heavy metal gypsies throwing down in a mosh pit. "Lydia in the Playground" starts off mellow enough but soon erupts into a dissonant Neil Young rampage. In "Unimpossible," wispy tendrils of sound coalesce into a discordant, raging, double-time, surf anthem. Spanish Flamenco permeates Tarde Demais." "Vintitreis" features a guitar emulating a vibraphone and a snaky bass line that sounds like nothing I have ever heard. At the climax, the band fires off a series of lurching breakdowns. "Whereisit" evokes "Hocus Pocus" by Focus before it throws on an overcoat of wrenchingly heavy Zeppelin. Once again, the group creates a totally distinctive, original, and mesmerizing groove. "Sand Horses" excites with exotic, up-tempo, Middle-Eastern flavor. The album closes with "Chromaterius," a Grateful Deadish jam mash up.
The internationalization of rock adds so many intoxicating ingredients to the already potent stew. Dialeto serves up a CD that will surely leave the palate jonesing for more!
©2014 Roger-Z