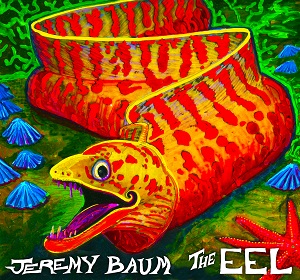 Jeremy Baum

"The Eel"
www.JeremyBaum.com
Flying Yak Records
CD review by Roger-Z (03/01/14)
Jeremy Baum puts the fun back into keyboard-based, instrumental garage-rock. Think back to "99 Tears" by Question Mark and The Mysterians or "Wooly Bully" and "Little Red Riding Hood" by Sam the Sham and The Pharaohs. The Sixties managed to reflect the turmoil as well as the joy in American society. We still share the distress -- but Jeremy Baum puts smiles back on our faces. Our star here finds himself surrounded by some of New York's finest -- guitar (Chris Vitarello, Myles Mancuso, Scott Sharrard), vocals (Chris O'Leary), drums (Eric Kalb, Chris Reddan, Michael Bram), bass (Matt Raymond, Tony Tino, Anthony Candullo), sax (Jay Collins), percussion (Dave Gross, Juma Sultan, Eddie Torres), harmonica (Dennis Gruenling), trumpet (Phil DeMier), trombone (Dean Jones). Jeremy Baum produced the album and guitar phenonomen Dave Gross captured it at Fat Rabbit Studios in Montclair, New Jersey.
The jubilant music romps wild. It kicks off with "The New Pollution," a one chord stomp with a bass line similar to The Beatles' "Tax Man". Baum pegs the perfect Hammond B3 tone to weave in with Vitarello's so tasteful guitar. "Funky Monkey" gets the blues down on the "good foot." Baum turns his organ up and lets it all hang out! The turnaround provides the hook. "Three More Bottles" features Chris O'Leary apologizing for his bad behavior. Woman gone -- but plenty of booze and harp playing! Don't know who "Charlie Baum" is, but this composition reeks of Ramsey Lewis!
Lots of variety on this album. "Borracho" shows off horn-driven Latin roots. Myles Mancuso dominates on "Pacific Drive" with the tastiest R&B guitar. James Brown's "Ain't It Funky Now" launches a monumental blowing session between Chris Vitarello, Scott Sharrard, and Baum. The anthematic "Purple Rain" proves a most inspired cover. Once again, Baum and Vitarello bob and weave like brothers from a different mother! The title cut, "The Eel," evokes Soulive and allows Mancuso and the group to show off monster tempo changes and chops!
Jeremy Baum manages to bring "peace, love, and happiness" back to instrumental music. He mainlines his inner joy. Job exceedingly well done!
©2014 Roger-Z