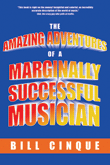 Bill Cinque

"The Amazing Adventures of a Marginally Successful Musician"
www.Bill Cinque.com
iUniverse.com
Book review by Roger-Z (06/16/09)
Appeared in More Sugar, July 2009, P. 12B
Bill Cinque perfectly sums up the plight of the working musician when he proclaims he's been playing $100 gigs for the past thirty years. Inflation takes its toll. A local boy, he started his career on bass right here in Westchester, namely New Rochelle, White Plains, Port Chester, Yonkers, etc. Sadly, most of the clubs and stores he mentions no longer exist. Good thing he fell in love and moved to California! Speaking of Westchester, I recently spoke to the manager of a famous steak house who grumped that his house piano player had left to work elsewhere for more money. I asked him if he needed a replacement. He replied no. They stuck the piano in the back and replaced it with another table setting. End result? They make more money than before! The manager, who used to book a club in White Plains in the '80s, claims that music hasn't made money for years.
On the bright side, Mr. Cinque does make a decent living from music and humorously explains his secrets. First off, he extols the virtues of the 4 + 1 band -- guitar, keys, bass, drums and female vocalist (with plenty of background vocals). He considers that the perfect configuration to play corporate functions, weddings, cover clubs, and original clubs. Cinque makes no bones about the fact that he enjoys corporate gigs and weddings. He feels the people come expecting to party and you just can't beat the money! To fill in the gaps during the week, he mostly plays acoustic guitar duos. He eschews agents -- except for one agency that he swears by, Create Music Consultants in Westchester, and has more than once subscribed to Musician's Contact Service to get him gigs.
It takes a lot of hustling to survive in the music business. Mr. Cinque discovered his lucrative niche writing songs for TV and movies and backing up sixties British invasion acts such as "Peter and Gordon," "The Moody Blues," and members of "Badfinger" and "The Hollies." A contact will call him up (when did anybody in the music business ever call me up except to cancel a gig?), with a description of the tune they want. For example, "Soft ballad, 66 beats per minute, female vocal, sax solo, lyrics re: heartbreak." Cinque's team can knock it out in 24 hours.
On a more serious note, he devotes a whole chapter to why he doesn't drink and refuses to work with alcoholics anymore. In the first place, on a $100 gig, he can't afford to buy a beverage -- it's too expensive! As to alcoholics, most people play worse when drunk and end up getting the band fired. They also tend to die -- either slowly or in a car accident.
Mr. Cinque exhaustively covers everything a young player should know and does it with a great sense of humor. Among other things, he suggests the following. Go to jams but always play with different people in order to grow. Buy expensive guitar cables because they will save your butt. Don't bring your girlfriend to the gig. And finally, pizza makes everything go better!
PS: His sister, the golden-throated Teri Lamar, plays all over Westchester county.
©2009 Roger-Z