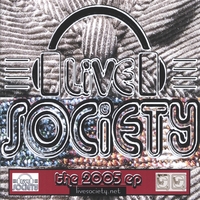 Live Society

"The 2005 EP"
DK Records
CD review by Roger-Z (01/10/06)
Appeared in More Sugar, February 2006, P. 6B
If you live for the r&b tip, then get your groove on to Live Society's The 2005 EP. Seventies soul lives! Do you remember "Best of My Love" by The Emotions? "Got To Be Real" by Cheryl Lynn? Those songs, along with the "Boy" groups of the nineties, serve as the template for these top-flight Westchester musicians who met while working on various local projects. The need for more regular work drove them to put together a permanent group. The lineup consists of Brian and Kevin Collazo (vocals), Jason Vargas (vocals), Erik Perez (drums), John Kaiteris (guitar), Jeff Miller (keyboards), Scott Harper (sax, flute), and Anthony Candullo (bass).
"Weight of This World" and "So Good," both written by guitarist John Kaiteris, leap right off the record and viciously sink their teeth into your brain. "So good, you look so good, and when we get together it would feel so good." Now, granted, these lyrics won't set the world on fire. But the synergy of a catchy melody, bouncy rhythm, and great harmony prove irresistable. Another high point of the album, Keely (written by Brian Collazo) starts off as a midtempo ballad with the vocalist pleading, "Please don't give up on me, Keely." Out of nowhere, it erupts into a volcanic, searing guitar solo.
The complex, latin-funk grooves generated by drummer Erik Perez and bassist Anthony Candullo separate Live Society from run-of-the-mill competition. Like Jaco Pastorius, these professionals lay down a lot of notes but manage to make it all sound so simple. Check them out live. I bet your feet won't stop moving all night long.
©2006 Roger-Z