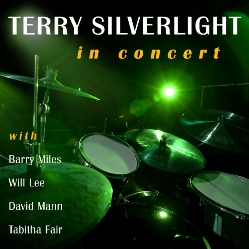 Terry Silverlight

"In Concert"
www.TerrySilverlight.com
CD Baby
CD review by Roger-Z (10/15/11)
Listening to the opening notes of Terry Silverlight's "In Concert," my jaw dropped to the floor. I didn't know anybody could play this well -- the rhythmic complexity; the effortless execution of complex, unison lines; the in-the-moment improvisation. I actually felt reassured, spiritually at peace. Those responsible for my tranquility include Terry Silverlight (drums), Barry Miles (keys), Will Lee (bass), David Mann (sax), and Tabitha Fair (vocals).
Silverlight made his recording debut at fourteen playing on brother Barry Miles ground-breaking jazz album, "White Heat." His big break as a studio musician came when he recorded "Native New Yorker" with Odyssey -- one of my favorite disco tunes. He has gone on to appear on gold/platinum CDs by Billy Ocean, George Benson, Natalie Merchant, Freddie Jackson, Stephanie Mills, Tom Jones, Laura Nyro, Anne Murray, Mel Torme, and Jennifer Holladay. He has also put out a number of solo albums on which he gets to play more complex music than on the hit records.
The rhythmic intensity of Silverlight's drumming reminds me of a woman I watched at a disco in the Dominican Republic last summer. She stood to the side of the dance floor holding onto her man. Every few seconds, she would shiver and her entire body would undulate like a mysterious ocean current reacting to the song's Latin wind.
"In Concert" showcases a very listenable style of jazz, fusion, and funk. Most of the songs include multiple time signatures and sections. With Silverlight as the captain, they conjure up cinematic images of "Journey to the Center of the Earth" and "Fantastic Voyage." His rhythms prod the other players into stellar performances. "White Heat" serves as showcase for Miles' piano and Mann's horn. "Bird of Paradise" exudes a Weather Report/Return to Forever feel. The rhythm section powers a Latinesque interpretation of the chestnut "Autumn Leaves" featuring expansive piano by Miles. On "Shuffle Song," Lee and Silverlight get the solo spotlight. Tabitha Fair delivers an inspirational vocal on the spiritual "Sunshine." "Faith, truth, trust, and love ... are all we need. Hold tight, we ain't gonna lose the fight. Sunshine, we can ride the wave together." The CD closes with "Sparks," a cross between Steely Dan, Charlie Parker, and King Crimson.
Blow your mind and spread the joy. Indulge yourself. Take the opportunity to listen to cutting edge music played by some of today's finest musicians.
©2011 Roger-Z