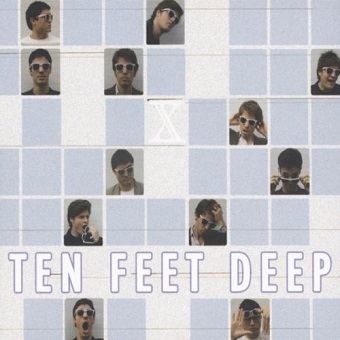 Ten Feet Deep

"Ten Feet Deep"
www.TenFeetDeep.com
www.CDBaby.com/cd/TenFeetDeep2
CD review by Roger-Z (02/15/10)
Appeared in More Sugar, March 2010, P. 23A
I can remember back when the highest complement you could pay a new band was that they were going to be "the next Beatles." Well forty years later, I'm gonna say it -- and mean it -- about Ten Feet Deep. I first met the guys when they did an MTV unplugged type session for my White Plains Cable TV Show, "Working Musicians." They exhibited the same exuberance, playfulness, and camaraderie as The Beatles in "A Hard Days Night." And their beautifully crafted pop songs perfectly captured the angst of teen and twenty-something youth. The guys fit together hand in glove, foot in shoe... They performed their tunes perfectly, as if they had been doing it all their life. That's because they have! Growing up in Bedford, NY, they played on local soccer teams and started a band in High School. They named the group Ten Feet Deep after an outdoor gig they played in a drained swimming pool. Life's been good to them having recently opened for Justin Timberlake and Avril Lavigne at the Hammerstein Ballroom in New York City.
So let's introduce the boys: Pete Chema (bass, vocals), Alexander Craig (lead vocals, guitar), Mike Leff (drums), and Brendan Ryan (lead guitar, vocals). Everybody but the drummer contributes to the songwriting. They sound like a cross between The Beatles, Elvis Costello, and The Knack. Lots of melody, harmony, and catchy lyrics. Hooks abound.
Hang on as we tour the record. It kicks off with the single, "Cardinal Rule." The pulsating beat and harmonies pound out the age old story of jilted love. Who can't relate to that? "Without Melinda" tells the tale of an extremely annoying party goer/karaoke singer. Everybody's glad when she's absent -- except for the singer who inexplicably wants to hook up with her. The bittersweet ballad, "Hands Down," contains my favorite lines on the album. "I don't mind what you're doing, all the people you been screwing, we all cheat... Hands down, I'm the best around, remember me." The perky, arpeggiated "Someone Else" talks about dating one woman but dreaming of another. "But I was with someone else, laughing in a room, taking her to dinner. But I thought of nothing else but sleeping with you. Does that make me a sinner? Cause if so I'd like to sin again." The delightful melody of "Easy for You To Say" shows off Alexander Craig's voice at it's finest. "When all is said is done, what have you learned? Where's the confidence you've earned... Easy for you to say." The title of "Take Me Back" says it all. This earnest, midtempo chugger will have all the girls rooting for the boy.
Ten Feet Deep put a lot of work into crafting their songs -- and even more so in pulling them apart. They aim for highly condensed, beautifully polished gems full of subtle harmonies and carefully interweaved instrumental parts. Hey, doesn't that sound like The Beatles?
These "young lads" deliver a big thrill. Every time I flick to "MTV Hits," I expect to see one of their videos. At this point, though, I can only find them on YouTube. But just you wait and see.
©2010 Roger-Z