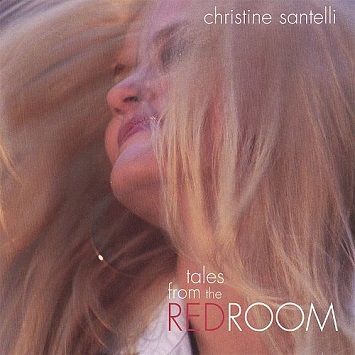 I haven't heard a woman belt out blues-rock this well since Bonnie Bramlett from "Delaney and Bonnie with Eric Clapton" fame. Santelli could enthrall me just by singing the phone book! I discovered her through a Myspace.com bulletin posted by singer Gina Sicilia. I clicked through to Christine Santelli's profile, listened to her tunes, and immediately requested "Tales From The Red Room."
The magic of Santelli's voice and pen transports the listener into a world of pain, sorrow, and dependence. She composed all the songs except "Freight Train." In "Shining Light," she pleads, "Hold me close so I don't fall... Cause if I hit the ground, I am staying down." "Stuck in Love" finds the heroine hooked on alcohol. "Don't know why I lose my mind. I'm lost in this deep black hole." In "She Wasn't Wrong," Santelli sings, "[She] found herself spiraling down. She wasn't one to ask for a thing. She hadn't seen much around. They say she plays up above and she sings." Santelli makes gentle fun of growing old in the aptly named tune, "Old." "I drink and I smoke til' I can't see no more... I carry around pens that don't have no ink. I bat both eyes whenI try to wink. I leave dishes and pans in my kitchen sink." Time presses in "One More Day." "We may only have one more day. Sleep with me and save all there is today." Hey Christine, you had me at "sleep!" And finally my favorite, "I'm So High." "Can you feel my face, it's been displaced, how will I know. Can you see my eyes, I'm blind, how will I know. Can you feel my breath, it smells like death, how will I know."
Simple, tasteful arrangements frame Christine Santelli's strong voice. Musicians include Santelli (vocals, acoustic guitar), Brian Mitchell (accordian, keys), Matt Mousseau (drums), Tim Tindall (bass, guitarone), Hugh Pool (guitar, dobro), Neal Pawley (trombone), Thomas Foyer (sax), and Mazz Swift (violin). Because Santelli sounds so good with full band. I asked her why she cut most of the tunes acoustic. She replied that at the time, she was playing mostly solo dates and hosting a singer-songwriter night at Scotland Yard in Hoboken, New Jersey.
So dim the lights, kick back, and let Christine Santelli's smoky, dark, sexy voice draw you into "Tales From The Red Room." Keep your wits about you. You may not escape!
©2008 Roger-Z