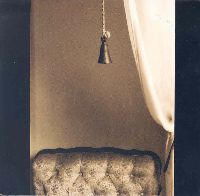 Dwight Goodyear
"Suspension"
CD review by Roger-Z (06/03/06)
Appeared in More Sugar, July 2006, P. 19B
Logic need not apply. Let me explain. To fulfill a Math requirement in said subject (Logic), I took a course this spring at Westchester Community College. To my amusement, the class contained no math! Rather we studied how to argue -- like in the famous "Argument Clinic" sketch by Monty Python. One day during a break, the professor, Dwight Goodyear, picked up a student's guitar and gave us a small demonstration of his prowess. He would utter a word, such as "bliss," then play a chord that evoked it perfectly. Blew us away. He then reminisced about his experiences as a long-haired, 80's-style, guitar shredder. So when he nonchalantly handed me his CD to review, I never expected it to be solo classical piano.
The fourteen cuts on the supernaturally themed "Suspension" conjure up a frightening range of emotions. They include the cold, fearsome dissonance of the title cut; the playful sadness of "Hide and Seek;" the quirky, exuberance of Ghost Dance I with a blues bass line gone atonal; the somber tolling of "Mysterious Light" reminiscent of Pink Floyd's "Division Bell;" the grieving romanticism of Ghost Dance II;" the gossamer ethereality of "Magic Mirror;" the aggressive, warm shards of "Hide and Seek II;" and the bittersweet mixed emotions of "Portrait." Only joy and laughter make no appearance. In the short span of less than four minutes, each composition follows a cycle of theme, variation, and restatement. Very similar to Professor Goodyear's classroom demonstration.
Like a great horror film, I found this CD disturbing, yet mysteriously captivating. It contained just enough warmth to heat up the edgier dissonance. Funny enough, maybe as a nod to Mr. Goodyear's rocker past, I could hear loud bass and drums on each track!
©2006 Roger-Z