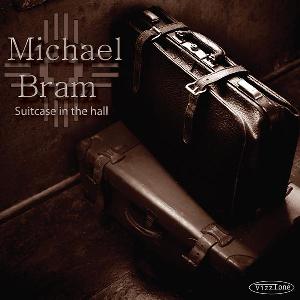 Michael Bram

"Suitcase in the Hall"
www.MikeBram.com
www.VizzTone.com/new-music-store/
CD review by Roger-Z (12/19/12)

Somebody must not be paying attention up there! Michael "Leroy" Bram is living MY dream -- playing with Jason Mraz during the day and playing blues and country at night. As a drummer, Bram possesses the uncanny ability of locking precisely into the moment. I remember many nights playing guitar in a trio with Bram on drums. Bassist John Zanella and I would marvel at the intensity of Bram's listening and reaction skills. Maybe that's why he recorded this album and I'm writing the review.
This latest Michael Bram CD finds him focusing his laser vision on two different aspects of roots music -- Chicago blues and early country. Bram wrote five of the songs and according to the liner notes, picked the other tunes because he wished he had written them! Musicians include Bram (vocals, drums, harmonica, mandolin, rhythm guitar, percussion), Dave Gross (guitars, upright and electric bass, harmonium), Chris Vitarell (lead guitar), Scot Hornick (upright bass), Cindy Cashdollar (steel and lap steel guitar), Jeremy Baum (Hammond B3, piano), Cary Brown (piano), Matt Cowan (sax, clarinet), Jon-Erik Kellso (trumpet). Dave Gross engineered and mixed the record at Fat Rabbit Studios in Glen Ridge, NJ.
The blues selections find the band locking into eerie, hypnotic grooves reminiscent of Howling Wolf, Screaming Jay Hawkins, and Creedence Clearwater Revival. Bram's original, "It Don't Matter Where You Get Your Appetite" should become an instant blues classic. "Now the way she shakes I can't sleep at night. You know the little girl's gonna start a fight. It don't matter where you get your appetite as long as you eat at home." Slim Harpo's "Got Love If You Want" continues in a similar vein, this time fueled by Bram's succulent, over-driven harp. Another Bram original, "Watch Out," derives from the classic Chess Records' "Evil." "Late at night, watch the door. I can't stand the way she leaving me no more. Watch out before you hurt somebody." Bram drenches the track with Mississippi saxophone. Bram's "Chinese Hot Mustard" rocks out in grand, New Orleans style. "When I placed my order I told the lady on the line, 'Give me extra hot mustard and please don't you forget this time.' But when the rickshaw came, couldn't believe it was true. He forgot my hot mustard. What more could I do?" Matt Cowan unleashes a bottom-rumbling, baritone-sax solo.
The country tunes deliver the same heartache but without the roar. Kris Kristofferson's "Nobody Wins" grooves like Neil Young's take on "Oh Lonesome Me." The fearful "I Love You So Much It Hurts Me" conveys its intensity via a waltz. "I'm so afraid to go to bed at night, afraid of losing you." Bram's "The Way You've Changed" takes a page from the Hank Williams songbook. In "Drinking Champagne," our dissolute hero misses what he never appreciated. "Drinking champagne, feeling no pain 'til early morning. Dining and dancing with every pretty girl I can find. Having a fling with a pretty young thing. Knowing tomorrow I will wake up with you on my mind."
Michael Bram feels the pain. He brings it to the forefront of every tune. Take a journey to the center of love!
©2012 Roger-Z