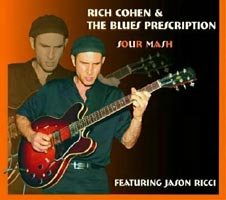 "Sour Mash" hooked me with the opening harp lick and drum hit. What a rush -- knowing that so much great music lies ahead. This CD serves as the poster boy for modern blues, mixing vocal and instrumental high energy shuffles, funk, gumbo, and country. No weak players here. To the contrary, congratulations to guitarist, songwriter, and vocalist Rich "The Flavor" Cohen for sharing the spot light with the extraordinary harpist, Jason Ricci. The other players include Barry Harrison (drums), Rod Gross (drums), Admir "Dr. Blues" Hadzic (bass), George "Papa" George (organ), and Brian Charette (piano).
I find it hard to pick favorites on this record because they all rock so hard. The instrumental "Bounce & Burn," written by Cohen, more than lives up to its title. Playing fast and tasteful (a seeming oxymoron) proves no problem to our hero. The guitar lines burst with melody punctuated with strategically placed double stops. Speaking of double stops, the title tune, "Sour Mash," features them right in the funky main lick. In this song, also written by Cohen, our fearless leader attempts to seduce (in a faux southern accent) a female acquaintance -- "We're in the key of whiskey! Baby, I know you think it's risky. Come on baby, you gotta take a chance. Take a little lick of that Sour Mash."
Harpist Jason Ricci combines a distinctive "flurry of notes" sound with a strong sense of melody and tastefulness. He shines on the opening shuffle, "Can't Do Nothing About It," penned by Cohen. The whole band gets low-down psycho on the New Orleans style 2:19. They evoke a powerful scent of voodoo, trains, and downright evil. "I don't want no woman to keep a tab at every bar I know," Cohen proclaims in his "Shame On You." And Ricci drives the point home with a torrent of harp followed by another exquisitely crafted single line and double stop guitar solo. Keep in mind, they recorded all but one track live in the studio.
And that last number they recorded live at Trumpets, in Montclair, New Jersey. Jason Ricci kicks off the classic boogie, "Shake Your Hips," with an a cappella solo. The band jumps in full throttle and the train leaves the station. Get ready for a wild ride. MC Rich Cohen gets the crowd going with his slightly hoarse incantation of the song's title and a stellar guitar solo. The band brings it down as Ricci takes over as conductor. Before you know it, the train practically flies down the tracks, propelled by the chugging bass and drums of Hadzic and Harrison.
The Blues Prescription perform a high energy, contemporary, version of the blues with taste and respect for tradition. I admire anybody who plays the blues on a Telecaster -- not an easy task. The same goes for a harp player who perfectly emulates a steaming locomotive. Recently back from Europe, catch these guys live at your local club before they take off on tour again.
©2007 Roger-Z