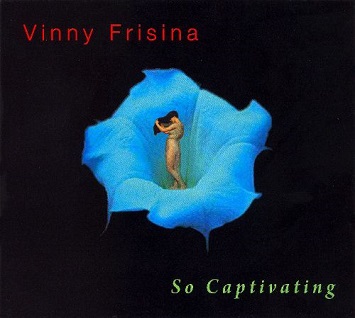 Vinny Frisina

"So Captivating"
CD Baby
CD review by Roger-Z (07/20/08)
Appeared in More Sugar, August 2008, P. 5B
What a delightful dollop of 80's pop. Cross Supertramp, Rupert Holmes, Steely Dan, and Air Supply and what do you get? Vinny Frisina's "So Captivating," a deliciously crafted confection of sweet buttered pop. Not too light, not too heavy, and topped off with the cherry of Frisina's ethereal tenor. As a matter of fact, Frisina supplies all the music, lyrics, vocals, guitars, bass, drums, and keyboards. Al Renino plays bass on "Keep Thinking of You" and co-produced the CD with Frisina.
So nice to hear such a carefully layered album, starting with the rhythm tracks and building bit by bit -- almost like one of those layered 80's haircuts. This works especially well for the cloud-like vocal harmonies. The lyrics mostly center on one man pondering getting together with the various women he sees. Not a bad way to spend your days and nights. Better if he actually hooked up! No simple, three chord rockers here. Each song contains sophisticated chord sequences and harmonies that manage to sound natural. Same goes with the beats which vary from song to song. Standout tunes include the twelve-string title track, the effervescent "In My Dreams," the minor-keyed rocker, "Keep Thinking of You," the "Hey Nineteen" influenced "She Doesn't Hurry," and the Beatlesque, "Don't Take It Slow." But honestly, I dig the whole album.
So all you romantics out there, do yourself a favor and pick up "So Captivating." How can you resist a single album that manages to capture so many of the faces and feelings of love?
©2008 Roger-Z