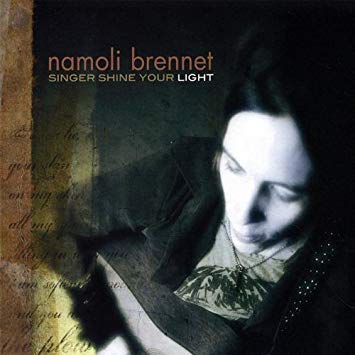 Namoli Brennet

"Singer Shine Your Light"
www.Namoli Brennet.com
CDBaby.com/cd/namoli6
CD review by Roger-Z (11/11/09)
Appeared in More Sugar, December 2009, P. 14A
God gifted Namoli Brennet with a terrific voice and a talented pair of hands. The computer and internet did the rest. Since 2002, Brennet has self-produced and engineered six CDs in her home studio. "Singer Shine Your Light" features the artist on guitar, piano, bass, drums, mandolin, and harmonica. She composed all thirteen tunes. This poster girl for the modern folk artist does it all -- and does it well.
Namoli Brennet excels at establishing an intimate connection with the listener. Her dynamic voice caresses and prods as she spins her tales. Out of the blue, like a good boxer, she hits you with an unexpected jab. On "Ithaca", she tours upper New York State. "Oh, Buffalo where did you go? Syracuse I miss you too. Nothing could keep me from Poughkeepsie cause every city has got a soul. And my love is thicker than Ithaca and bigger than all of Albany." In "Border Crossing" she describes waiting at three A.M. in the desert to give much needed water bottles to illegal Mexican border crossers -- people who have been victimized every step of their journey. Her take on this? "I don't want to be peaceful in this struggle. Just another beatnik with a muzzle...So I say a little prayer. Santa Maria save us from despair." The funky folk of "Rough Enough" describes the thought processes of two lovers about to hook up. "But heís no Romeo. He drinks whiskey and he likes to rodeo. Would it be wrong? Cause he could be rough enough, He could be rough enough for you. Itís like a movie set but sheís no Juliet. She likes daytime television, menthol cigarettes. Would it be wrong cause she could be rough enough."
Miss Brennet paints from a broad pallet. She brushes in the mysterious, moon driven seductress in "Rebel Sun" backed by sheets of gossamer vocals and moaning guitars. The mandolins wail on "The Crying Wheel" as Brennet cries, "Mama's got a broken wing, yeah. Daddy's got a broken heart. Cause baby packed up her things and rode off into the dark. Severed the crying wheel." On the upbeat, "Just Like Falling," she hits just the right note of positivity. Taking a musical page from Fleetwood Mac, she harmonizes "Itís just like falling in love. Like a lightning bolt from above. That fits your heart like a glove, just like a glove. And everything feels like enough. And you canít get enough of this stuff." As a matter of fact, those words kind of sum up this CD.
In the internet age, musicians make, market, and own their own records. All this for a millionth of what it cost just a few years back. Unfortunately, the new world rewards them by downloading just one $.99 track from a CD. This record deserves the full monty. Buy the whole album.
©2009 Roger-Z