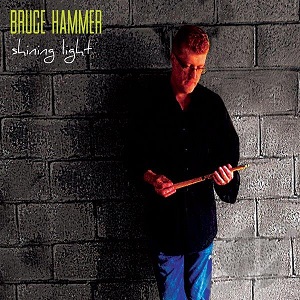 Bruce Hammer

"Shining Light"
www.facebook.com/Bruce.Hammer.16
CDBaby.com/cd/BruceHammer
CD review by Roger-Z (12/19/14)

In the early days of rock, record producers honed in on the drums and vocals. Percussion hooks the feet and singing snags the heart and mind. "Shining Light," the debut CD from drummer Bruce Hammer, lifts a page from that tradition. This collection of R&B covers from the Sixties and Seventies features a core band of Bruce Hammer on drums, Kiko Gonzalez on bass, Richie Giorgianni on guitar, and Matt Detroy and Matt King on keyboards. Other musicians include singers Tara Connolly (Juicy Grapes) , Tommy McDonnell (Blues Brothers, James Brown, Eileen Ivers, Gil Parris), Genie "Pepper" Swinson (Wilson Pickett, Boz Scaggs, The Brothers Johnson), saxophonist Dan Cipriano (Wilson Pickett, Sam Moore, Gary U.S. Bonds). Bruce Hammer's drum sound derives stylistically from Stax/Volt drummer Al Jackson Jr. Hammer provides a solid, syncopated beat with very few fills. The snare sound does not pop or snap. It simply defines the pocket.
The tunes on the album run the gamut of emotions from ecstacy to loneliness and even suicide. The magic combination of rhythm, message, and voice propel the best. Genie Swinson sells "I'm In Love" with a sensuality you can almost taste. Emotive licks by Dan Cipriano and guitarist Gary Gli drive the message home. In "These Arms of Mine," Tara Connolly pleads with a friend to make the leap and become her lover. Quiet desperation drips from her voice while guitarist Richie Giorgianni beautifully channels his inner Steve Cropper. I've witnessed Tommy McDonnell sing live many times with guitarist Gil Parris. But it took this CD for me to truly appreciate the depth and power of his soulful baritone. In the Bill Withers funky classic, "Better Off Dead," McDonnell describes how drinking drove away his wife and kids. Without them, he doesn't want to live.
On a lighter note, some songs just bounce happily along. "Barefootin'", sung by McDonnell, instantly propels the audience onto the dance floor. Bassist Gonzalez percolates the groove. Tara Connolly flirts unmercifully with the listener on "Baby I Love You," the old Aretha Franklin classic. On "Mighty Love," McDonnell sounds more like Teddy Pendergrass than The Spinners! The album closer, "I'm Your Puppet," features Bruce Hammer vocals accompanied only by Dan Neafsey on electric guitar. Endearingly touching. I bet that one goes out to his new wife!
The rhythm section of Hammer, Gonzalez, and Giorgianni bond tight in a clean groove that offers the perfect launch pad for the singers and soloists. Sax legend Dan Cipriano provides the icing on top. If you enjoy music that inspires without auto-tuning, synthesizers, drum machines, and all the other modern paraphernalia, pick up a copy of "Shining Light." Bruce Hammer does it "Old School!"
©2014 Roger-Z