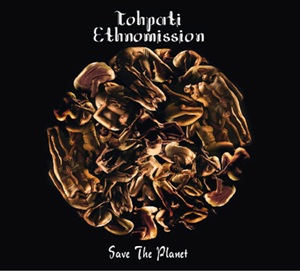 Tohpati Ethnomission

"Save the Planet"
en.wikipedia.org/wiki/Tohpati
MoonJune
CD review by Roger-Z (07/15/12)
World music has injected a new vitality into the jazz/fusion genre. Tohpati Ethnomission, lead by Indonesia's leading jazz guitarist, introduces a whole new vocabulary. Mix electric Miles Davis, King Crimson, Mahavishnu Orchestra, Santana, native Indonesian melodies and beats and shake well. Consume while still hot! This instrumental potpourri, written and produced by wunderkind Tohpati, thrills the senses. The group consists of Tohpati (guitar, synth guitar), Indro Hardjodikoro (bass), Endang Ramdan (Indonesian percussion), Demas Narawangsa (drums and Indonesian percussion), and Diki Suwarjiki (Sundanese flute). Those who lament that there's nothing new happening in the world of music, rest your ears here.
Each track on this astounding album takes you on an extreme, aural adventure. Imagine "Bitches Brew" jacked up on steroids and performed on Halloween! Despite the exotic scales and instrumentation, each and every riff tugs at the mind and lodges there instantly. This lyrical playing strikes up the type of exciting conversation in which the listener hangs on to every word. On album opener, "Save the Planet," the bass acts as Pan, introducing us to the dance of the jungle. The drums kick in and the groove explodes into a melody played off and on in unison. The track then breaks down to a mellow guitar chord vamp that leads to a mysterious mid-section redolent with percussion. Before you know it, the group transports us back to a dancing frenzy in the heart of the bush. In "Rain Forest," we slip into a hypnotic trance, lured by a sinuous melody and beat that re-vitalize and re-energize the spirit. Before you know it, Ethnomission gallivants off at full speed emitting soaring guitar lines that repeat over and over. After a time, the licks seem to shift out of sync with the drums. Then we realize that no, the music has just shot into another dimension! The dramatic "Battle Between Good and Beast" portrays the intricate Ying and Yang of the universe. You actually hear the forces conversing through the different melodies and instruments. The record closes with the unprecedented "Anger" - a heavy metal tune played with no drums. Tohpati's searing guitar solos symbolize mankind's rape of the earth.
The extraordinary "Save the Planet" delivers ground breaking music. The composition, musicianship, dynamics, and improvisation rate an 11 (even if we make 10 louder!). I would love to see the band in a large concert hall backed by a full light show -- Pink Floyd meets Avatar! Hey, what do you know? I've just gone global!
©2012 Roger-Z