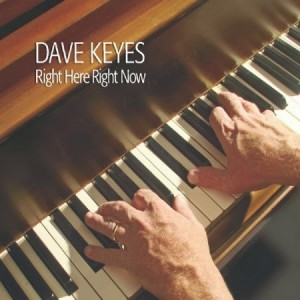 Dave Keyes

"Right Here Right Now"
http://www.DaveKeyes.com
www.cdbaby.com/Artist/DaveKeyes
CD review by Roger-Z (10/21/15)

Dave Keyes may play and sing "The Blues", but he writes real songs with real changes - not just a "shuffle in E" or a "slow blues in A!" An accomplished keyboardist and vocalist, Keyes gets plenty of help on "Right Here Right Now" from top players including Popa Chubby, Dave Fields, Jeff Pevar, Chris Vitarello on guitar; Sue Williams, David J. Keyes, Gary Frazier on bass; Frank Pagano, Steve Rushton on drums; Tim Ouimette on trumpet; John Hahn on trombone; and Chris Eminizer on tenor sax. Although Keyes recorded the album in many different studios, you would never know due to the excellent mixing job by Gary Solomon.
I always wonder what drives an artist to sing the blues, especially in this age of positivity, spiritualism, organic foods, and yoga! Whatever the reason, pain and trouble abound on this record, although softened a bit by a sprinkling of earthly delights... Dave Keyes rocks the blues hard! On the album opener, "Here She Comes Again," the singer finds himself in love with a woman who drops in and out of his life at will. "I donít ask and she donít tell. I donít really need to know. All I can say is when sheís in my arms, I donít want to let her go." Keyes brings a tongue-in-cheek, New Orleans feel to "Nothing Left to Lose." "You took my money. Then you took my car. You took everything I owned. But you didnít get my heart. You made me old too young." Dave Fields rips a flaming guitar solo. "Delta Queen" captures the The Allman Brothers' feel on "Trouble No More." "Youíre a hot-blooded lover. You bring me to my knees. So why you shut me down when Iíve finally found my Delta Queen?" Stinging, heavy lead guitar by Popa Chubby.
Keyes reveals a softer underbelly on a number of tracks. On the slow, woe-of-the-road tune, "Never Say Goodbye," he sings "So as the sun caresses the mountain and we taste that last final kiss, no matter how I try after all that weíve been through, Iíll never say goodbye to you." Jeff Pevar plays a beautiful resonator slide-guitar solo. Keyes shows off his stride piano on the haunting instrumental, "Shadow Boogie." In the jump, New Orleans style, "Who Stole The Baby Jesus," Keyes receives help on vocals from Diane Cricchio and a whole lot of brass. The whole town goes nuts looking for the Baby Jesus that disappeared from the church's Baby Manger until little Tommy explains what happened!
Dave Keyes occupies a much envied position in today's music world - he works all the time! His consummate singing and keyboard styling ensure him non-stop gigging as a sideman. But I delight in the moments he steps out front as he does on "Right Here Right Now."
©2015 Roger-Z