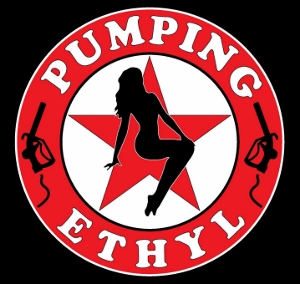 Pumping Ethyl

"Pumping Ethyl Interview"
www.PumpingEthyl.net

Interview by Roger-Z (05/20/14)
Roger-Z: How did the band come together?
Pete Brown: Back in 2005, the original members of Pumping Ethyl (Pete Brown – lead vocals, David Wilson – bass, and Toby Scarbrough – drums) connected with a local guitarist who had placed an ad on hvmusic.com. It read something like, "Pro Guitarist looking to establish new cover band - super group." With "super group" requiring super talent, Pete, Dave, and Toby decided to recruit guitarist Paul Poulos to complete the four piece.
Since then, Toby moved back to Los Angeles to reconnect with his original band, Chalk FarM, which had been signed to Columbia Records and had toured with some of the top modern rock artists of the 1990's (Goo Goo Dolls, Better than Ezra, Matchbox 20, and others).
With the departure of Toby, Pumping Ethyl recruited percussionist extraordinaire, Stephen Mansfield, who possesses a sense of total adaptability to any musical situation. He plays with such chops, tone, feel, and emotion that he can groove you up against a wall.
After moving to N.Y. City from Glasgow Scotland, bassist David Wilson joined the original band Jonas Bronk and later formed original group Mimi Ferocious. They cut two albums and after a year of grueling showcases in L.A. clubs such as the "Whiskey A Go Go" and "Roxy," the members disbanded to seek their fortunes in new projects. David helped found Pumping Ethyl.
I first became a professional singer when I took the stage with original heavy metal band Tantrum. Professionally managed, we played big rooms all over the tri-state area including "The Chance," "The Stone Pony," "Cat Club," "Lion's Den", "Studio 1,"and "Streets." We also opened for national acts Pantera, Great White, Savatage, Toxic, and Cycle Sluts from Hell. I then joined cover band Speed Bag Baby which allowed me to sing not only metal but classic rock as well as dance music. In addition, I kept busy going unplugged, playing to the coffeehouse crowd. I also joined original band Ockam's Razor. However, several tragic events sidelined the band indefinitely. I helped found Pumping Ethyl.
Paul Poulos has spent the last 2 decades as a truly inspired guitarist, recording on major label records and feature films. He's earned his "Road Warrior" status by touring the U.S. and Europe with bands such as Anthrax, The Misfits, Sugar Ray, Korn, Type O Negative, Life of Agony, and Clutch. Paul was an original member of Pumping Ethyl, but health reasons sidelined him.
With the departure of Paul, Pumping Ethyl recruited Eran Phillips who has been with the band since 2009. Recently Eran expressed a need to leave the group in order to focus on his media company, "Daddy Plays LLC," dedicated to the production of high quality lullaby CDs that parents can also enjoy. As a result, Pumping Ethyl has been holding auditions for lead guitarists and will be making an announcement very soon as to their newest member.
In 2011, Pete recruited rhythm guitarist Mark Macilvane. Pete met Mark while filling in for hard rock outfit, Category 5. Mark serves as the "the perfect accomplice" who delivers the musical goods by laying down a foundation of sound.
Roger-Z: How did the group come up with the name "Pumping Ethyl?"
Pete Brown: Well, the band wanted something clever, a play on words. We're not sure if we accomplished that or not. But Ethyl is a woman's name, and some of the members (who will remain nameless) are unrelenting perverts, so Pumping works nicely with that. But Ethyl is short for Ethylene, a hydrocarbon and highly combustible fuel. So we tied together a sexual innuendo and a highly combustible (high octane) compound. It gives people a sense of what they're gonna get from the band, "High Octane Rock and Party Music." By the way, if any of your reader's are named Ethyl, we'd like to meet her some time.
Roger-Z: Describe the band's repertoire.
Pete Brown: Seriously, there's nothing we can't cover, from Metal to Disco, from the latest pop to pop from the 80's, 90's and 2000's. We pride ourselves in blowing people away with not just the variety, but the delivery as well. We encourage your readers to come check us out some time. We are not the standard run of the mill cover band. For a full list of bands we cover, people can visit us at www.pumpingethyl.net or look for us on facebook. We always want to be friends!
Roger-Z: Do you rehearse or just learn songs off the record?
Pete Brown: For the most part, we learn songs completely before the group practices. Rehearsal is to work out arrangements of new tunes, vocal harmonies, and to make sure everything gels. I would like to mention we rehearse at super low volume. This way, mistakes cannot be hidden. We've also been known to rehearse in the dark. You really need to know your stuff when you can't visually cue off each other. By playing out regularly, we don't typically go over known material. We focus on delivering new tunes. Our set list contains over 120 songs covering music from the 1960's to today.
Roger-Z: Where do you perform?
Pete Brown: We primarily play rooms in the tri-state area with an occasional trip to a huge club up in Boston called "Hennessy's of Boston." Some of our favorite local rooms include "Rambling House" in Woodlawn, "Molly Darcy's" in Danbury, "Tiernan's" in Stamford, "Orange County Choppers Café" in Newburgh, "Mahoney's" in Poughkeepsie, "Billy Joe's Ribworks" in Newburgh, "Pete's Saloon" in Elmsford and "Rudy's" in Hartsdale. We are always looking to add new rooms and we love private parties. We find they are the best venue to connect with people and have fostered many friendships from them. With the summer just ahead, we look forward to booking more private parties.
©2014 Roger-Z