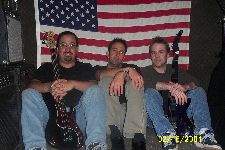 Concert review by Roger-Z (9/15/06)
Appeared in More Sugar, October 2006, P. 11B
You may know the classic-rock trio Powderfinger by another name -- Bob and Norm. The second version of the band plays acoustic gigs as a duo. With the addition of Ronnie Negro on drums and the switch to electric guitars by Norm, they morph into the rock monster Powderfinger (not to be confused with the Australian band of the same name). These boys work all the time. Just check out their schedule at www.BobAndNorm.com. As a matter of fact, they played a double this night. The duo appeared earlier at Opus 465 in Armonk, N.Y.
Talk about fate. I sat at the bar with bassist Bob Goetz for a little pre-gig chat and noticed that he could not fully extend the fourth finger on his right hand. When asked about it, Bob explained it resulted from playing high school sports. All set to go to college on a football scholarship, the injury required taking a tendon from somewhere else in his body and grafting it into his hand. The accident changed his life. Soon afterwards, he met Norm and they put together the "band." By the way, Bob grew up best friends with another Westchester legend, guitarist Gil Parris.
Dressed in jeans and T-shirts, Powderfinger hit the stage rocking with the Beatles chestnut, "The Ballad of John and Yoko." This veteran band tailors every show to the specific crowd. They take requests and don't follow a set list. From time to time, Bob gazes at his huge master catalog for ideas. Tonight, due to the older demographic, they performed mostly seventies tunes -- amazingly quiet! After their second song, Elton John's "Tiny Dancer," I passed back stage and mentioned to Bob how soft they played. Next thing I know, they launch into "Iron Man" by Black Sabbath -- an audience request!
Powderfinger takes pride in sticking very close to the original song arrangements. Norm dutifully learned every lead lick in about a thousand tunes. Young instrumentalists, just plant yourself in front of the band and prepare for an education. It doesn't end there. Bob and Norm match the vocal harmonies and in the original keys. Even Mick Jagger lowered "Satisfaction" on the most recent Stones tour. The two frontmen alternate singing lead. Bob projects deeper and lower. Norm takes the higher, raspier parts.
Sometimes a band gets lucky. Like on this night when a wedding party comes in to celebrate after a run through. No "bridezillas" here! Just lots of dancers enjoying such tunes as "Sweet Home Alabama" (Lynyrd Skynyrd), "Squeeze Box" (Who), "Suspicious Minds" (Elvis), "Brown Sugar" (Stones), "Me and Julio" (Simon and Garfunkel), "Stuck in the Middle" (Steelers Wheel), "The Joker" (Steve Miller), "Lola" (Kinks), "Heard It Through a Love Song" (Marshall Tucker), and "American Girl" (Tom Petty).
Powderfinger played a long (one hour and a quarter) first set. They know that the second a band stops, patrons tend to leave. Club owners love this band for their professionalism. They never play too loud, always vary the material, take requests, and constantly add new tunes. Bob looked tired but happy after the first set. These guys may rock forever!
©2006 Roger-Z