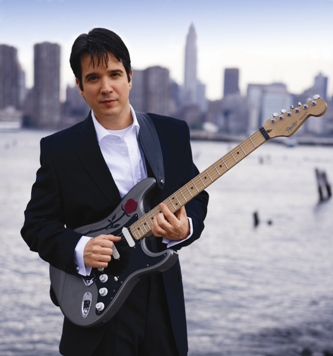 Gil Parris

Gil Parris Picks the Guitar Hits
www.facebook.com/people/Gil-Parris/1156732106

Thursday March 22, 2012 7:30P
B.B. King Blues Club 212-997-4144
237 West 42 St New York, NY 10036

Interview by Roger-Z (02/16/12)
Roger-Z: You burst onto the scene as a Smooth-Jazz guitar God with your RCA major label debut in 1998. After many triumphant albums, you suddenly embark on a new, harder-edged, rock direction. What motivated this change?
Gil Parris: Money (laughs)... Actually when I started my career I recorded and played live with people like Dr. John, Billy Vera, Cory Glover (Living Color), etc. -- a far cry from what you would call "Smooth Jazz." That term wasn't even around then. If you listen to my first solo CD, there is really a lot of rock guitar on it, such as the cover of "A Rainy Night In Georgia." Some of the overall production was a bit smooth for airplay concerns at the time. But when a major label like RCA/BMG comes knocking and offers you almost $100,000 to make a record, you do it. It helped open doors. I was on the same label as Chet Atkins and Elvis... How many guitar players can say that?
Roger-Z: Your music encompasses so many different directions. But other than "Live at the Next Door Cafe," you've stayed away from recording your dance/party music side -- the one we see at all the local gigs. Why?
Gil Parris: I am in the music business, and I wasn't getting big enough budgets for my Blues/Roots stuff. When somebody gives me money to make a record, DVD, or a book, I do it. I have always gotten paid for what I do. If you don't, it's really just an expensive hobby. Music has a lot of hobbyists. I don't mean to sound harsh, but that's the truth. Plus, for me, the common thread of what I do is PHRASING. The genre doesn't matter that much. In the end it's all music. Look at great instrumentalists like David Sanborn and Larry Carlton. They've made Blues, Jazz & Smooth albums, etc. and sound GREAT on all of it! Miles laid his stuff down on Michael Jackson tunes at the end of his career and he didn't really change his voice or phrasing from "Kind of Blue" -- just his rhythm section!
Roger-Z: Talk about the debut performance of your new group at B.B. King's in N.Y.C. on Thursday, March 22, 2012. Who will perform with you? Will you tape the show?
Gil Parris: Josh Dion-vocals and drums, Joe Piteo-drums, Matt King-keys, Kip Sophos-bass, and I've got calls in to some celebrity guests who have expressed interest. We'll see what happens! I am going to audio/video the show. I'm excited to revisit all these classic guitar tunes and put my own stamp on them. Thankfully, I've already gotten offers from people who want to book this show out of town! The official title: Gil Parris...` the GUITAR HITS ! Hendrix, Santana, Beck...Blues and Beyond!
Roger-Z: You got lassoed into playing on the latest Hendrix Experience tour. They blessed you with his possibly greatest tune -- "Little Wing." I've heard you perform it many times. At first, you chose a slightly discordant approach. But lately, you've added a more gospel harmony feel. Explain the evolution of the piece.
Gil Parris: Well, I never like to play it exactly the same way each time. I have certain guidelines and mental notes of things I like to touch on. But it's always good to leave some options.
Roger-Z: When I grew up, Herb Alpert ruled the charts. Do you feel that the music industry still has a place for instrumentals?
Gil Parris: The industry has taken a HUGH blow in the last ten years and the attention span of the American public is forever dwindling, but you never know. Could you imagine if you went in to Tower Records and everybody you knew had a bin card? This new era of, "Look, mom. I'm a recording artist too. Go to my iTunes!" has reeked havoc on supply and demand in the music world. I get asked about the business side of music a lot. In my spare time, I am preparing a seminar with some additional phone coaching. I have a unique insight into the biz because I have seen it from so many sides where most people only get to see just one -- all styles, major label deals, indie label deals, national TV appearances both as an artist and a sideman, tours as an artist and a sideman, book deals, concert DVDs, CD-Rom courses, Hot Licks instructional video deals, a signature Guitar line, etc...
Roger-Z: You just finished up a tour with the great Diane Schuur. People raved about the two of you exchanging licks. Any plans to tour with her or other artists in the future?
Gil Parris: We just did sixteen shows in Boston and The Blue Note in N.Y.C.! Diane is a two-time Grammy Winner and an AMAZING talent. We really hit it off! Playing with her was quite a challenge because anything can happen. I believe I will be with her in L.A. in April. But I also have to go to Wildwood Guitars in Denver at that time to shoot ten videos of my new Gil Parris Signature Model Reverend in Red Cherry Burst! I hope for no conflicts.
Lots of good stuff on the horizon. I recently had to re-schedule a show with Bernie Williams in L.A. Bernie and I are also playing March 2 and 3 at Kitano in N.Y.C. I go to Boston with Bobby Caldwell in May for four shows. Then I go to Nashville to play at Summer NAMM. Later in the year I am shooting a NEW instructional course in Florida that I have to keep under my hat. At the same time, I love keeping my "pencil sharp" by working the Lazy Lounge Jam with Curtis Winchester and my core band. All and all, an exciting and exhausting time for me!
©2012 Roger-Z