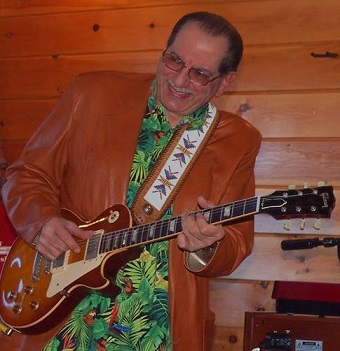 Paul Gabriel

"Blues Master Paul Gabriel Interview"
www.PaulGabriel.net

Interview by Roger Zee (03/20/17)
Roger Zee: What started you on guitar?
Paul Gabriel: At ten years old, two television programs inspired me to play guitar, although I didnít actually start until twelve. First, the Ozzie and Harriet Show with Ricky Nelson and his band. Second, the Lawrence Welk Show with Neil Levang and Buddy Merrill. Elvis Presley also influenced me, but nothing like Ricky Nelson with James Burton and the Lawrence Welk Show. The Everly Brothers and Bill Doggett made their way into my likes as well. Ricky Nelson, Elvis, and the Everly Brothers all used Gibson J-200ís, my favorite acoustic guitar. But James Burton, the guy backing Ricky Nelson, really drew my attention. The Lawrence Welk band sometimes played goofy tunes, but they exhibited such fine musicianship. Welk always gave Neil Levang and Buddy Merrill featured spots with their great new Fender guitars. I knew then thatís what I wanted to do.
Roger Zee: What kind of music did you first begin to play?
Paul Gabriel: I started playing popular instrumentals of the day and also began writing them. I think the first song I ever composed, an instrumental of course, I named "Brand X." I really wanted to learn "Honky Tonk" by Bill Doggett. This served as my introduction to blues/jazz -- a song with a hundred guitar lessons rolled into one. My guitar teacher at the time didn't want to show it to me. He asked why I would want to learn Rock and Roll, something that would never last!
Roger Zee: How did you hook up with Harry Chapin?
Paul Gabriel: I lived next door to a recording engineer at CT Recording Studios in Bridgeport in the early Seventies. Thatís where I learned how to record and how that differed from playing live. We got called whenever the studio scheduled someone special. Ultimately this led to performing on quite a few recordings. This happened with Harry Chapin because the owner of the studio, Paul Leka, produced Chapin. We spent a lot of time at the studio observing them and this led to us playing on Harry's records.
Roger Zee: How long did you work with Michael Bolton?
Paul Gabriel: I played with Michael for almost two years. I learned so much on my first sideman gig for an up and coming star! I worked with some other great musicians as well. I replaced Bob Kulick who left to play with John Cale and do more producing. Later on, some of the band joined Meatloaf. My biggest surprise came after working six months with Michaelís keyboardist. He told me he played organ on some of my favorite Freddy King records. At that time I think I set a precedent in Michaelís band as I only got fired twice!
Roger Zee: Talk about working with Duke Robillard on your "Whatís the Chance?" album?
Paul Gabriel: Working with Duke Robillard stands out as one of my most inspired musical accomplishments. Iíve known Duke for many, many years, having played with him countless times, and had always wanted him to produce an album for me. This finally began to take shape after a gig in 2012 when I opened for him. I started testing out a new song I had written called ĎRoomful Of Bluesí. It had nothing to do with his band of the same name, but it did get his attention! He asked me if I had recorded it yet and I said, "No, why donít we?" That got the ball rolling, and by the time we started recording the album, I had about a dozen songs that seemed like they would fit the bill. Duke, myself, and recording engineer Jack Gauthier forged a great working relationship. I started out a little nervous about it all but the chemistry proved excellent, so much so that Duke ended up playing on three quarters of the record! As we progressed, Duke said, "This is fantastic, Iím going to run it by a label for you." He presented it to Jesse Finkelstein of Shining Stone Records who then signed me up. The end result sat for twenty-two weeks on the major Blues charts, ranking #18 nationally and #1 in CT. It sold a good amount of product and nabbed a nomination for a Blues Music Award (formerly W.C. Handy Awards). I regard this as my finest album to date.
Roger Zee: Any more plans to work with Mark Naftalin, Rock and Roll Hall of Fame member with the Paul Butterfield Blues Band?
Paul Gabriel: I work with Mark Naftalin on a number of dates every year. We've been friends for about 20 years. We started playing together occasionally when he first moved to Westport, CT and produced Blues festivals. We featured Mark on a few tracks of my "Whatís the Chance" album. I consider it a great honor to work with him because of his musical partner of many years, Mike Bloomfield, my ultimate guitar hero. The first Butterfield album featured both of them and that record became indirectly responsible for me working in the music business today.
Roger Zee: Describe your most notable and/or unusual gig.
Paul Gabriel: My most notable gig would have to include any of the several nights I opened for B.B. King. Itís hard to describe because there was nothing quite like it. The man truly was the King in all respects -- musically, personally and everything in between. Iíll never forget him sitting in the backstage wings of the theater watching our set with a big grin on his face. Somehow that made forty years of struggling in this business all worth it. More recently, one of my gigs with Mark Naftalin took place on the 36th anniversary of Mike Bloomfieldís death. What an extraordinary night for me as I played with his partner of many, many years -- sitting in Mike Bloomfieldís guitar chair so to speak. I actually felt Mike paid us a visit that night -- quite inspirational!
Roger Zee: Who influenced you most? Talk about your favorite equipment.
Paul Gabriel: Mike Bloomfield inspired me the most. He delivered the sound I wanted to hear -- the tone of a lifetime! I always keep a copy of "Super Session" close by. After that, it became the Kingís, T Bone Walker, Eric Clapton, Peter Green, Duane Allman, and Dickey Betts.
My favorite guitar and amp combination remains a vintage 1959 Les Paul and a Blackface Fender Super Reverb. Also, my Blonde 1954 Gibson ES-5 offers an unmistakable sound that I love. Iíve had some great Strats also, too many to mention. But my favorites include a 1961 Blonde one with an anodized aluminum pick guard and a 1957 pink one thatís credited with a few ZZ Top songs.
©2017 Roger Zee