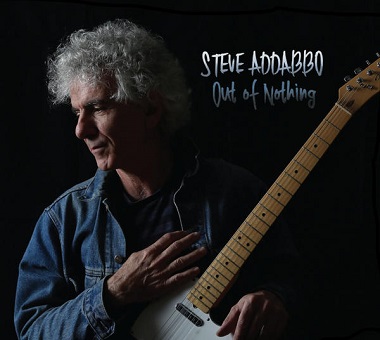 Steve Addabbo

"Out of Nothing"
www.SteveAddabbo.com
www.cdbaby.com/Artist/SteveAddabbo
CD review by Roger Zee (09/21/16)

Renowned record producer, engineer, mixer, guitarist, and songwriter Steve Addabbo takes center stage on his first solo LP, "Out of Nothing." The man who helped launch the careers of Bleecker Street denizens Suzanne Vega and Shawn Colvin also guided and produced Eric Andersen, Jeff Buckley, and Loudon Wainwright III. The fourteen songs written/co-written by Addabbo showcase his fine, soft, laid-back sensibilities as well as high, reedy voice. Musicians include Steve Addabbo (vocals, guitars, keys, bass), Steve Holley (drums), Tommy Nagy (drums), Wyatt Offit (drums) John Patitucci (bass), Byron Isaacs (upright bass), Larry Campbell (pedal steel), Eric Andersen (Fender Rhodes).
These most intriguing vignettes of Americana deal with individuals attempting to come to grips with the vagaries of life. A couple falls in love over dinner and joyously lingers to the restaurant's closing time in the countrified "Empty Plates, Full Glasses." A man and woman's relationship suddenly shifts gears in the ebullient "Cynthia's Kiss." An itinerant troubadour spends years searching for his soulmate and musical partner in the wistful "My Emmylou." In the Indy classic "Left of Center," written with Suzanne Vega and made famous in the film "Pretty in Pink," "You can find me left of center off the avenue, in the outskirts and in the fringes...wondering about you." A "Shot in the Dark" can change everything. Can we keep love safe and sound in this "Oasis" we've found? "Life it goes on and on" behind locked doors and in the streets and stores of a small Westchester, Hudson "River town."
Steve Addabbo masters his pieces using a misty, subdued, understated palette of Telecasters, acoustic guitars, piano, drums, and bass -- always focused on the vocals and the story they tell. It makes sense as Addabbo not only mixes, produces, and engineers, he also spends a fair amount of time on the road accompanying Eric Andersen, Richard Barone, and others on guitar.
If you find yourself yearning for a time when the art of simple, accompanied storytelling reigned supreme in the music world, take a dip in the rarefied waters of Steve Addabbo. For "Out of Nothing," everything shall come!
©2016 Roger Zee