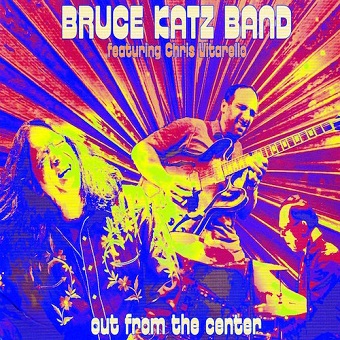 Bruce Katz Band featuring Chris Vitarello

"Out from the Center..."
www.BruceKatzBand.com
www.Amazon.com
CD review by Roger Zee (11/19/16)

Everybody wants to play the Blues, but so few really can. I'm not just talking about a shuffle or a slow one. The music of the Bruce Katz Band on "Out from the Center..." runs the gamut of Boogie Woogie, Funk, Jazz to Rock. And they drench it all in the Blues with a slight touch of the Mean Reds! The group consists of Bruce Katz (keys), Chris Vitarello (guitar, vocals), and Ralph Rosen (drums, background vocals) with additional help from Jimmy Bennett (lap steel), Peter Bennett (electric bass). Heck, they must be good. Allman Brothers' drummer, Butch Trucks, picked up Bruce Katz and Chris Vitarello for his Fall U.S. tour with The Freight Train Band.
Chris Vitarello lends vocals to a number of tunes on the record. He kicks off the album with the uptempo stride of "Don't Feel So Good Today" written by Katz and Rosen. The organ-drenched, slow Blues of Vitarello's own "The Struggle Inside" goes through a plethora of interesting chord changes as he exams his life path. Woman issues pony up front and center with the box shuffle of "All Torn Up." Once again, not your "mother's" simple progression. Solutions come to light in Rosen's mid-tempo pocket shuffle, "Another Show," also sung by Vitarello and dealing with stage fright.
The undeniable chemistry between the three players derives from years of road work and insanely great musicianship. Tons of fascinating changes and jazz flourishes. Hard to pick favorites. But if I did, Katz's "Blues from High Point Mountain" would land near the top of the heap. This laid back, jazzy ballad contains spectacularly tasteful guitar and keyboard flourishes. And for you psychedelics, the title track takes you on a mostly two-chord vamp that straddles Allman Brothers and Grateful Dead territory along with all the tasty soloing that goes with it.
Now these boys can get funky too, but always on a jazz tip. They channel The Crusaders on Ralph Rosen's uptempo "Schnapps Man." They bring back the traditional organ trio format with Bruce Katz's "Dis-Funcshunal" and "You Got It." They swing like mad men on Chris Vitarello's "Think Fast."
Holy cow, can these guys play! Frankly, in the "Terminator" war between musicians and DJs, I think The Bruce Katz band has a good chance of coming out on top!
©2016 Roger Zee