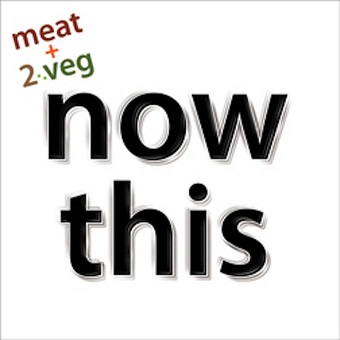 meat + 2 veg

"now this"
www.KeithGurland.com
meat2veg.bandcamp.com/
CD review by Roger Zee (10/19/16)

I love it when out of nowhere, a truly great artist crosses my path. "meat + 2," the brainchild of Keith Gurland, does it old school, ala John Coltrane. They recorded "now this" live in the studio in just one day. Hey, that means they can actually play! I know this for a fact because I watched two/thirds of the band (horn, bass) perform on my White Plains Internet/Cable TV show, The Working Musician. The jazz ensemble consists of Keith Gurland (composer, alto sax, tenor sax, clarinet), Matt Rocchio (electric bass) and Roger Murdock (drums).
The genius of the "meat" lies in Gurland's gift for melody. It becomes near impossible to tell when he's playing a written line or simply improvising. The exception comes in the middle of those songs where he blows up a tornado of sound! The fact that the trio lacks a chordal instrument allows the music to breathe and focus on the soloist. Also unusual, the bass, not the drums, transmutes the wave and dictates the flow. The use of an electric bass, as opposed to a stand up, allows for a more powerful, percussive, driving beat.
This potpourri of tuneage leads to a very engaging listener experience. The saucy innuendo of "Refracted Moments" slips under the skin like expensive lotion. "True Black" takes the energy and spirit of Cream's "Sunshine of Your Love!" and channels it into a slinky, jazz tilt. "Shpilkes," true to it's Yiddish definition of impatience or agitation, takes the Hora and shoots it full of meth. I can just picture the bride and groom suddenly expelled from their dancing chairs! "Jaded Buddha" captures and luminates the beauty of the lotus blossom. The sentimental "Walt's Schmaltz," lays it on thick! The warmth of the traditional "Statte Vicino Amme" summons up dancing under the Tuscan Sun. The tristesse of "When Johnny Comes Marching Home" transforms into a joyous New Orleans funeral swing. I can picture "Nebulosity" featured in an independent movie where a man slowly shuffles through dark streets and reminisces about a floundering affair.
The absence of vocals on "now this" enables the listener to lose themself in imagination, gently drifting wherever the soft, lilac-scented breeze takes them. The antithesis of modern, computer generated pop, this loving, caressive jazz soothes the soul, relaxes the mind, cleanses the spirit, and opens the heart.
©2016 Roger Zee