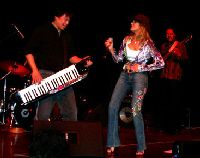 NRG (New Rhythm Groove)

2/10/06 The Lazy Lounge 9:00-1:00pm
White Plains, N.Y.
Concert review by Roger-Z (2/11/06)
Appeared in More Sugar, April 2006, P. 19A
From the ashes of THE SHADES, rises NRG (New Rhythm Groove). Minus one singer and sax player, sporting a new guitarist and drummer, this stripped-down musical machine flexed its muscles Friday night at White Plains' new Lazy Lounge. Taking a lesson from corporate America, the band faced the pain of a major reorganization and emerged even stronger. Still standing -- Nicole Hart (vocalist), Lance Ong (fearless leader, keyboards, backup vocals), and bassist Vonnie Hudson. New to the game -- guitarist Rich Cohen (Rickie Lee Jones, Buddy Miles, Lucky Peterson) and drummer Joe Piteo (Gil Parris).
As I hit the club that night, several questions lingered. Could this group, renowned for the chemistry between its two powerful front people, still command attention with just one? And what direction would the new music take? The answers: an emphatic yes, and bluesy, funky rock.
The band simmers on their opening instrumental cover of The Allman Brothers' Hot 'Lanta. Midway through the tune, I happen to look up and catch a glimpse of lead vocalist Nicole Hart warming up in the DJ booth -- pacing like a tigress in a cage. From the moment this curvaceous blonde hits the stage, the action never stops. Whether dancing, playing percussion, or just mugging with the band, she never lets up, goes flat, or misses a note. When she moans I need it "Every Night of the Week," I wonder if I could keep up. When she demonstrates the "Hip Shake," I know the answer. On a more serious note, Ms. Hart represents the rare marriage of desire, talent, and beauty. She can really sing.
Under the musicial direction of keyboardist Lance Ong, the new guys lift the music to a whole new level. Drummer Joe Piteo packs a frenzy and exhilaration that meets its match in the power and sophistication of Vonnie Hudson's bass playing. Renowned session player Rich Cohen, sporting a beat-up, white, "Frankenstein" Tele, spews everything from blues, to funk, to fusion. Watching Mr. Ong, with a keyboard hanging from his neck, work the pitch wheel while trading single-line licks with Mr. Cohen made me shiver. Good musicianship never goes out of style.
The group will begin recording some original material next month. But fear not. An exhilarated Nicole assures me they will play a ton of shows in order to get the tunes studio ready. Check www.nrgband.net for their calendar.
©2006 Roger-Z