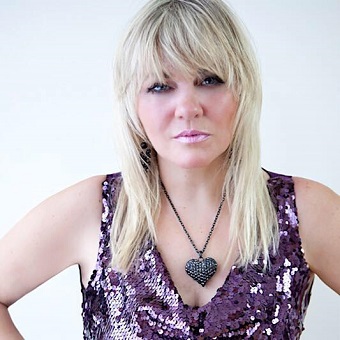 MaryAnn Renza

"Diva MaryAnn Renza Interview"
www.facebook.com/maryann.renza

Interview by Roger Zee (06/12/17)
Roger Zee: When did you first start singing? Which artists piqued your interest?
MaryAnn Renza: I started singing "professionally" at fourteen. I got involved with music at a much younger age in school, choral groups, and plays. My big influences sang Rock, R&B, and Funk -- Ann Wilson, Stevie Nicks, Aretha Franklin, Chaka Khan, and Whitney Houston.
Roger Zee: Who did you study and train with?
MaryAnn Renza: As a young girl, I trained with Mrs. Lattman (Peekskill, NY). Then later with Katie and MaryJo Agresta in Manhattan ("Trainers to the Stars") and Sharon Bryant of "Atlantic Star" fame (Westchester).
Roger Zee: Do you write songs?
MaryAnn Renza: I've written lyrics to some music on my own but mostly I collaborate with the members of "Steel Blue" -- Sal DaDabo, Vic Milano, and Mark Jensen.
Roger Zee: Talk about "The Lost Soulz Band" and some of your past groups.
MaryAnn Renza: Well first and foremost, I started out with my two sisters, Kathy and Carol in a band called "The Silhouettes." Later the group name changed to "Leather & Lace." We traveled and made record company demos for various producers, including Porter Carrol (Atlantic Star/Daryl Hall & John Oates). I've also worked with such independent bands as "Midnight Express," "Seventh Sunn," "Hit Squad," "Joe Nott," "The Burbans," and my original group "Steel Blue." The list goes on.
I currently play with "The Lost Soulz," a high-energy Westchester based band consisting of four great and very talented men whom I'm so proud to have the opportunity to work with -- Lou Ubriaco-lead Guitar/background vocals (U Music), Joey Pagano-rhythm guitar/lead and background vocals, Nick Nicastro-bass/background and lead vocals, Paul Ferenc-Drums. We have worked on the scene for about four years playing danceable Rock from the Sixties, Seventies, and Eighties. I also sit in with another excellent Rock band called "The Force" that includes my husband, Gary Renza (guitar, vocals), Roy Renza (drums), Jim Haederle (keyboards, vocals), Vinnie DeBerto (bass, vocals), and Roy Renza (drums). And finally, you've featured me at your Roger Zee Rock/Blues/Soul Jam at Victor's Hawthorne.
Roger Zee: How did you hook up with Bill Edwards and the annual Veterans Christmas CD and concert?
MaryAnn Renza: I met Bill Edwards through my longtime, dear friend Chuck St Troy. And I must say it's a wonderful event to be involved with. So many talented musicians cooperating for a great cause. Bill works very hard all through the year just to put this together. This season's CD features "The Vanilla Fudge," Kristen Capolino, Vaneese Thomas, Scott Staton, Tom Dudley, "The Levin Brothers," Duchess Di, Dave Keyes, Carmine Appice, Gene Cornish, Bill Edwards, and myself. At the Christmas concert, I will sing a song Bill wrote with backing by Pete Levin (organ), Scott Staton (piano), Paul Opalach (bass), Wayne Warnecke (percussion), Kristen Capolino (guitar), Corrin Huddleston (harmonica), John Hahn (trombone), Justin Hahn (trombone), Sal Lagonia (trumpet), john Lissauer (sax), Mark Belladino (baritone sax), Bill Losier (trumpet), Kathy Policastro (backing vocals), and Bill Edwards (backing vocals).

Roger Zee: I understand you play lots of private events.
MaryAnn Renza: I've worked for various agencies and independent groups throughout the years. Just to name a few -- "Al Scatts Stolen Moments," "Funkestra," "James Daniels," "Cunningham Brothers," "Anthony Radice," "Lou Zayas & Blaze," and "RSVP."
Roger Zee: Describe your most notable and/or unusual gig.
MaryAnn Renza: I'm most proud that back in the early Nineties, I sang with my sisters at the World Trade Center for a CD 101.9 jazz station concert supporting vocalist Porter Carroll and recording jazz/r&b artist Bob Baldwin. I feel very blessed to have had the opportunity to take part in this especially before we lost the towers in 2001.
Roger Zee: What advice would you give to young singers starting out today?
MaryAnn Renza: Work hard and follow your dreams. Don't ever give up no matter what life throws your way. Follow these three key steps -- listen, observe, and learn. Never stop learning!
©2017 Roger Zee