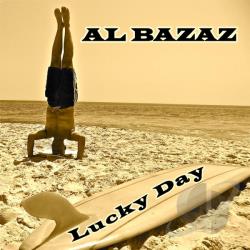 Al Bazaz

"Lucky Day"
www.NoDiscipline.com
CDBaby.com/CD/AlBazaz
CD review by Roger-Z (08/23/14)

There must be a connection between teaching elementary school and writing great music. The last two performers who appeared on my Cable/Internet show, "The Working Musician (TheWorkingMusician.com/TheWorkingMusician.html)," absolutely killed it. Thank you Al Bazaz and Sarah Chesler -- both elementary school educators! I've always maintained that succeeding in music relies on at least sixty percent social skills. You will not meet two more positive and loving people than Mr. Bazaz and Ms. Chesler. After all, no one gets over on kids!
Al Bazaz recently took a short break from his gig of thirty-one years in New Jersey's most popular Reggae band, "No Discipline," to create a "one and done" acoustic album of his most recent originals. The positive, breezy, vibe stems in part from Mr. Bazaz's love of surfing. Nothing gets this man down. On "Walkin'," the CD opener, our hero finds himself "Walkin' down the street, thinking to myself, what am I gonna do without you." But in the end, he decides, " I guess I'll play my guitar, I'll have a drink at the bar, and I will try a little harder at becoming a star. I'll watch some sports on TV, take better care of me, write a song, move along." The upbeat sensibility continues with "Lucky Day" - "Met a pretty girl at a shopping mall. This must be my lucky day!" However, Bazaz soon finds himself in "Aga-Agony." "Oh my Lord, my woman is starting to twerk! She's got to have some agony before I leave for work... Loving is good, you know her loving is nice. But once is never enough, I've always got to do it twice!"
Al Bazaz just can't resist a pretty woman. It excites him playing live and it drives his songwriting. Just listen to the the Sixties sounding, "Come on Pretty Baby," the Calypso of "Take a Chance," the Dylanesque "(I Can't Think of Anyone) Better Than You for Me," and the Reggae of "Under the Reggae Moon." Bazaz lays out his core philosophy of love in the last three songs. "I need loving to survive," he declares "I Need Love." In "Positive," he sings, "I'm so positive, I'm positively positive that I am love in you." Al Bazaz satisfies the soul with "You Can Always Come Home" -- a tune written for his son stating that no matter what happens, his child will always have a home.
Truthfully, I revere Al Bazaz. Every other month, he fronts my weekly Thu Victor's Hawthorne Blues/Rock/Reggae jam. Everyone adores him. The women can't stop dancing. Once, I remember him cutting up with a little league baseball team of fifth graders who dropped in for a bite. Al Bazaz fills the heart with love, joy, and melody. Recharge your inner peace with "Lucky Day." One Love!
©2014 Roger-Z