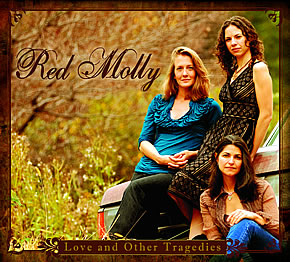 Red Molly

"Love and Other Tragedies"
www.RedMolly.com
CD Baby
CD review by Roger-Z (08/18/08)
Appeared in More Sugar, September 2008, P. 25A
On a fateful July 2004 evening, three folk singers gathered around a campfire at the Falcon Ridge Folk Festival. The instant magic convinced Laurie MacAllister, Abbie Gardner and Carolann Solebello that three was better than one. And so launched the career of Red Molly. "Love and Other Tragedies" marks their first full-length studio release. They fall dead square into the category of Americana -- a mix of country, bluegrass, and folk.
While onstage, they appear as a self-contained trio. On this album they bring in some additional expertise. Personnel includes group members Laurie MacAllister (vocals, guitar, banjo), Abbie Gardner (vocals, dobro, guitar), Carolann Solebello (vocals, guitar, bass, mandolin), and guests Mike Weatherly (upright bass), Duke Levine (mandola, lap steel) and Jake Armerding (fiddle). No drums. The record features a mix of originals and covers.
The music reminds me of what you might hear at a small town dance in middle America. "The Beaumont Rest Stop" features MacAllister on lead vocals and tells the tale of a woman who leaves a bad marriage to return to her beloved family. Reason? Too much time alone. The song features smart solos by Gardner (dobro) and Levine (mandola). In "The Mind of a Soldier," written by Gardner, a lover tries to reconcile the man she knows and loves with the soldier he has become. "But while you're off fighting wars with demons you can see, well there ain't nothing I can do to fight the devil inside of me." Solebello's "Summertime" revels in the glory of summertime in Kansas and features a smart two-step beat, great fiddle, and gorgeous harmonies. In her "Honey on My Grave," Gardner gets down and dirty with the blues. Based on a swampy dobro riff, she sings "If I'm covered in sweetness, I surely will be saved. I will live in the golden sun if I got honey on my grave." "Sentimental Gentleman from Georgia," sung by Gardner, pays homage to a high stepping ladies man from Dixieland. MacAllister wrote the widow's lament, "This Farm Needs a Man." "My boy misses his daddy who never came back from the war. The barn is leaking with rusty hinges on the door. I clean this house and I work the fields. I do the best I can. But Lord help me, this heart needs a man." Abbie Gardner sings the traditional "Keep Your Lamp Trimmed and Burning" in three part harmony. The mixture of banjo, mandola, and dobro kills.
CD Baby, where you can purchase this album, has spawned a whole shadow world of music. Modern technology makes it cheap and easy to record a record and CD Baby makes it cheap and easy to sell. So instead of railing against corporate America and the commercial music it churns out, just bypass it completely. Red Molly's "Love and Other Tragedies" features real musicians playing and singing real songs about real life -- in real time! Check them out live. These cats can play!
©2008 Roger-Z