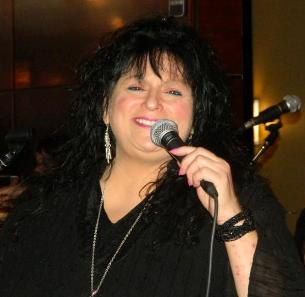 Lois Colombo

Lois Colombo Interview
www.facebook.com/lois.colombo


Interview by Roger-Z (11/18/13)
Roger-Z: What first attracted you to music as a youngster?
Lois Colombo: I caught the "jazz bug" at a very young age. I was inspired and influenced by the percussive, sweet sounds of Ella Fitzgerald, Nat King Cole, and Mel Torme. At the age of two, I felt comfortable singing and dancing for an audience. My dad would often put me on the tables in restaurants to "show off" my musical capabilities. I credit my father for my natural entertainment quality and charismatic style.
Roger-Z: Where did you get your formal music training?
Lois Colombo: I studied at the White Plains Academy of Music for piano and voice, Mercy College and the Conservatory of Music for voice and music theory, Westchester Community College for creative writing, and SUNY Purchase for sound engineering. Along with singing and songwriting, I have used this education to teach voice throughout my career. Currently, I offer voice lessons in my home studio. I'm proud to say the music community regards me as a true musician, not just a "chick singer!"
Roger-Z: How did you first begin your music career?
Lois Colombo: I started playing drums at the age of twelve. In March 1978, I began my professional career in music during my first year of college. While a drummer, I was scouted for discus and shot put for the Olympics and started Olympic training. However, my passion for music superseded my desire to become an Olympiad so I gave up the training.
Roger-Z: What came next?
Lois Colombo: During the late 1980's, I expanded my music horizons and became one of the first female rap artist under the name, Sidra, meaning "Star-like." When my record came out in the summer of 1989, I remember performing at Joe and Joe's in the Bronx and running out to the backroom during the break and hearing my song on the radio.
I worked for many years on the World Yacht in NYC and had a long run at the Blue Note opening for many of my idols, including Isaac Hayes, Carmen McRae, Billy Eckstine, and Roberta Flack. I also had the pleasure of singing with Lou Rawls and Billy Vera. I performed with Michael Hill at the Village Gate and Stuff at the Lone Star Cafe. I've gigged with such legends as Melvin Sparks, Stanley Banks, Cornelius Bumpus, Carmen Leggio, and Etta Jones. I co-wrote and performed for many years with the late, great Joe Puma.
Roger-Z: Where can people catch you performing in the Westchester area?
Lois Colombo: Once a month on Tuesday, I play a dinner show with Richie Giorgianni, Bruce Hammer, and Paul Avrutin at Elements in White Plains. I also work at the North Street Tavern in White Plains with Richie Giorgianni, and Pete Falbo. I appear frequently at Rini's in Elmsford, La Grotta in Yonkers, and many private parties. I gig a lot with the long time friends I just mentioned as well as with Lou Volpe, Nick Oliva, Tony Senatore, and Bobby Baby Walker.
©2013 Roger-Z